Will the module work on Magento x.x?
We provide compatibility of our modules with currently supported Magento versions (in accordance with Magento lifecycle policy ) . For greater convenience, we've set up an approximate schedule for Magento versions that we test and support.

Tested versions
In the table below, you may find exact Magento versions our extensions are tested with:
Quarter

Magento official release

General availability

Pre-release

Amasty runs tests

2.4.7-beta2

2.4.6-p3

2.4.5-p5

2.4.4-p6




2.4.7-beta2


2.4.6-p3

2.4.5-p5

2.4.4-p6













Technical support

Although Magento discontinues support for certain versions on a quarterly basis, we have made the decision to retain technical support for some deprecated versions, allowing our customers to continue receiving assistance. However, kindly note that we perform module testing only with the versions specified in the table above.

Please find the table below that lists the Magento versions for which we provide technical support:
| | |
| --- | --- |
| | Amasty provides technical support |
| | |
| | |
| | |
| | |

If a version is listed in the table without a patch, it implies that all its subsequent patches are also covered by our support policy. For example, version 2.4.2 is in the table, which means that 2.4.2-p1 and 2.4.2-p2 are also supported.
We start testing all our modules for compatibility with new Magento versions two weeks ahead of the release. That way, we can ensure the smooth performance of the modules. New updates with the compatibility-improvement patches are released as soon as they are ready; the info can be found on the extensions' product pages: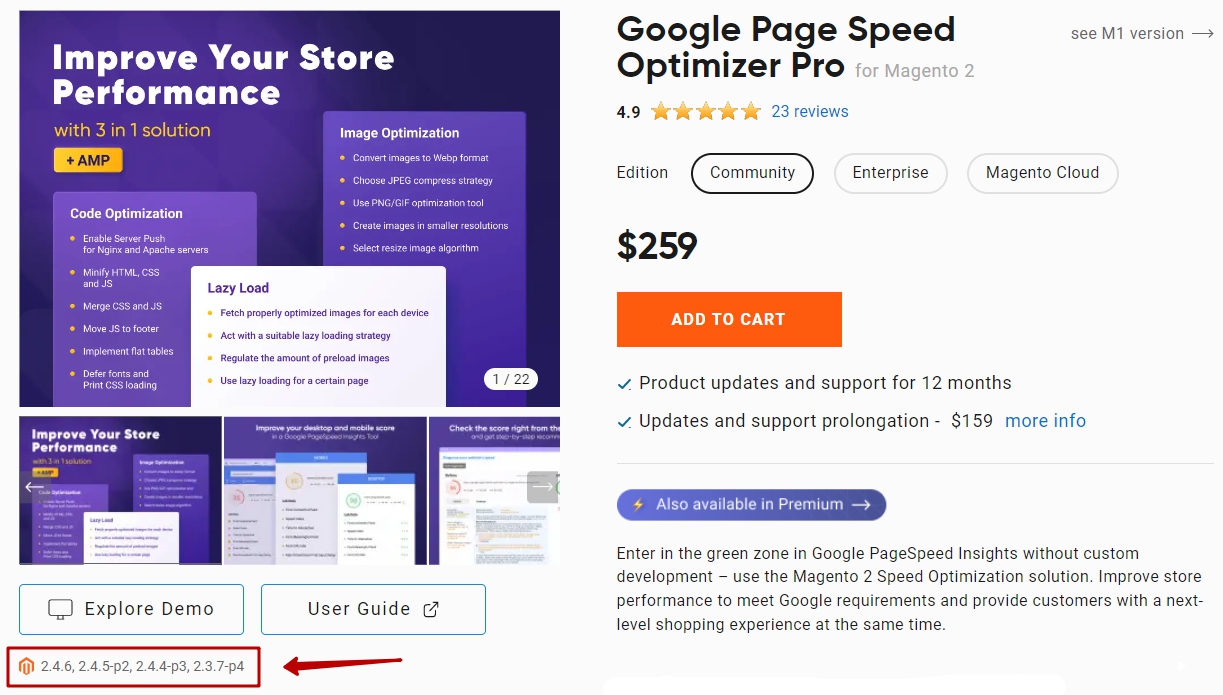 Related Articles

What PHP versions does Amasty support?

Magento supports Amasty supports PHP 7.4, 8.1, 8.2 Existing extensions: PHP 7.3+ New extensions: 7.4, 8.1, 8.2 Since July 14, 2021, we don't support the PHP 7.1 and 7.2 versions.

Can I get an older version of the extension to fit my Magento version?

Yes, we can send an older package of the extension that might fit your Magento version if it's not in the list of supported releases. Kindly note that older versions of the modules may miss some features that are presented on their product pages. ...

How do we help our clients with conflicts between Mageplaza and our modules?

Sometimes it happens that various problems arise when installing extensions, which from time to time interfere with the normal functioning of the store. This article will tell you several cases of how our support team helps our clients solve ...

Are all Amasty extensions compatible with each other?

Yes, our extensions are fully compatible with each other and don't cause any conflicts while using them together on one Magento instance. However, if any specific integration between the modules is required, please contact us with the details of the ...

Is your extension compatible with my third-party module/theme?

Amasty started testing extensions with Hyvä theme. The list of extensions with implemented compatibility can be found in this article: What Amasty extensions have Hyva compatibility and how to install Hyva packages? We don't test our extensions with ...