A customer bought an item with a subscription Start Date in the future and was charged immediately. Is it a bug?
When customers subscribe to a product, it's possible for them to select the Start Subscription Date on the product page.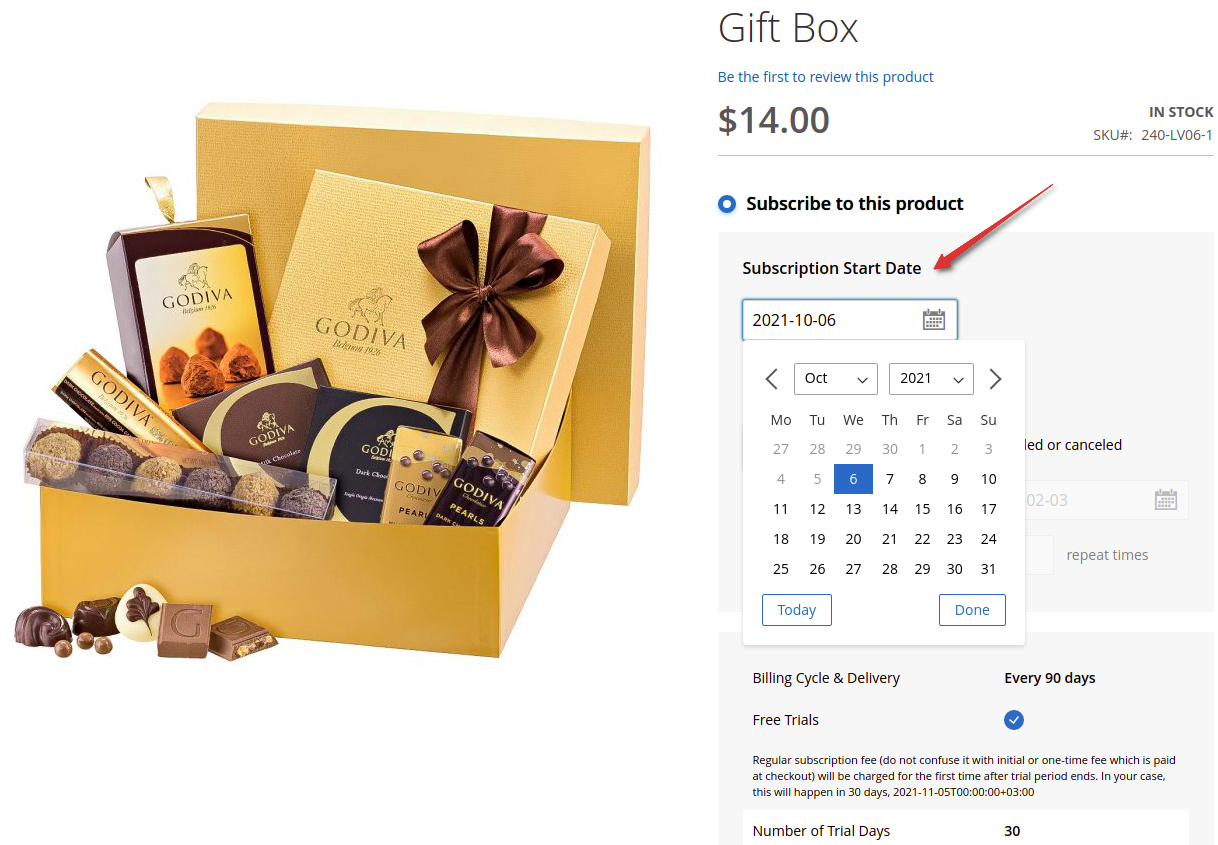 By default, the initial order amount is charged as soon as the order is placed. Meanwhile, the Start Subscription Date defines the date on which the subscription itself begins.
The subscription has to be renewed each billing cycle depending on the selected frequency and the
Start Subscription Date
.
This means, that the next payment will occur one billing cycle after the Start Subscription Date (not from the date of the initial order).
However, the customer will have to pay immediately for the first order containing the subscription product even if the
Start Subscription Date is set to be in the future.

Related Articles

What triggers the recurring payments?

According to the extension logic, a new order for a subscription product is created at the beginning of each billing cycle. The recurring payments for subscription orders can be triggered in one of the following ways depending on the payment ...

How to create flexible subscription plans?

Our Subscriptions & Recurring Payments has a ready set of sample subscription plans, however, you can always create new ones that might be more suitable for your needs. To create a new subscription plan, please go to Magento Admin Panel ...

Customer placed a subscription. How do I track it further?

Once customers create their subscriptions, they can be checked in the following places: 1. On the storefront inside the customer account. If you're logging in as a customer or running tests, you can go to the My Subscriptions tab in ...

There is no information in the 'Last Billing Date' and 'Amount Billed' in the customer account. How do I fix it?

The columns below show the information for those subscription orders that were created by the system automatically according to the selected billing cycle: For example, a customer places a subscription order with a 1-week billing cycle. ...

What types of products does the Subscriptions & Recurring Payments extension support?

At the moment, the Subscriptions & Recurring Payments module supports the following types of products: Simple, Configurable, Virtual, Bundle, Downloadable. Subscriptions can't be placed for the Grouped type products out of the box.
Announcements

Already done in Q3'22

Extensions updates Advanced Reports now, when a website works with multi currencies while filtering reports by the store views, the data in the report is converted to the site base currency; now, the Product Performance report displays up-to-date customer

What to expect in Q3'22

New features and improvements Improved Layered Navigation integration with Live Search. Elastic Search improved Relevance Rules functionality. Product Feed an option to add configurable options to product URL; possibility to use Quantity attribute as

Already Done in Q2'22

Brand-new extensions Google Page Speed Optimizer Powered by SpeedSize™ is a synergy of Amasty Google Page Speed Optimizer and SpeedSize, which will help you greatly increase the site performance due to code structure compression and neuroscience media

What to expect in Q2'22

Amasty always strives to deliver new functionality in accordance with the most popular customers' requests and e-commerce trends. In this article, we'll share our plans on new extensions, improvements, fixes, and other releases the team intends to be

March'22 results

New Solutions In March, the team presented two new suites that combine features of top Amasty extensions and are attractive price-wise: Must-Haves Suite. Don't know how to grow your business or what to start with? Get our must-have set of features for