What to do if the map isn't loaded or there're exclamation marks in the address line?
If the map isn't loaded or/and there are exclamation marks in the address line, first of all, you may check the Console log. Usually, it contains the error that causes the issue with additional information on resolving the misbehavior: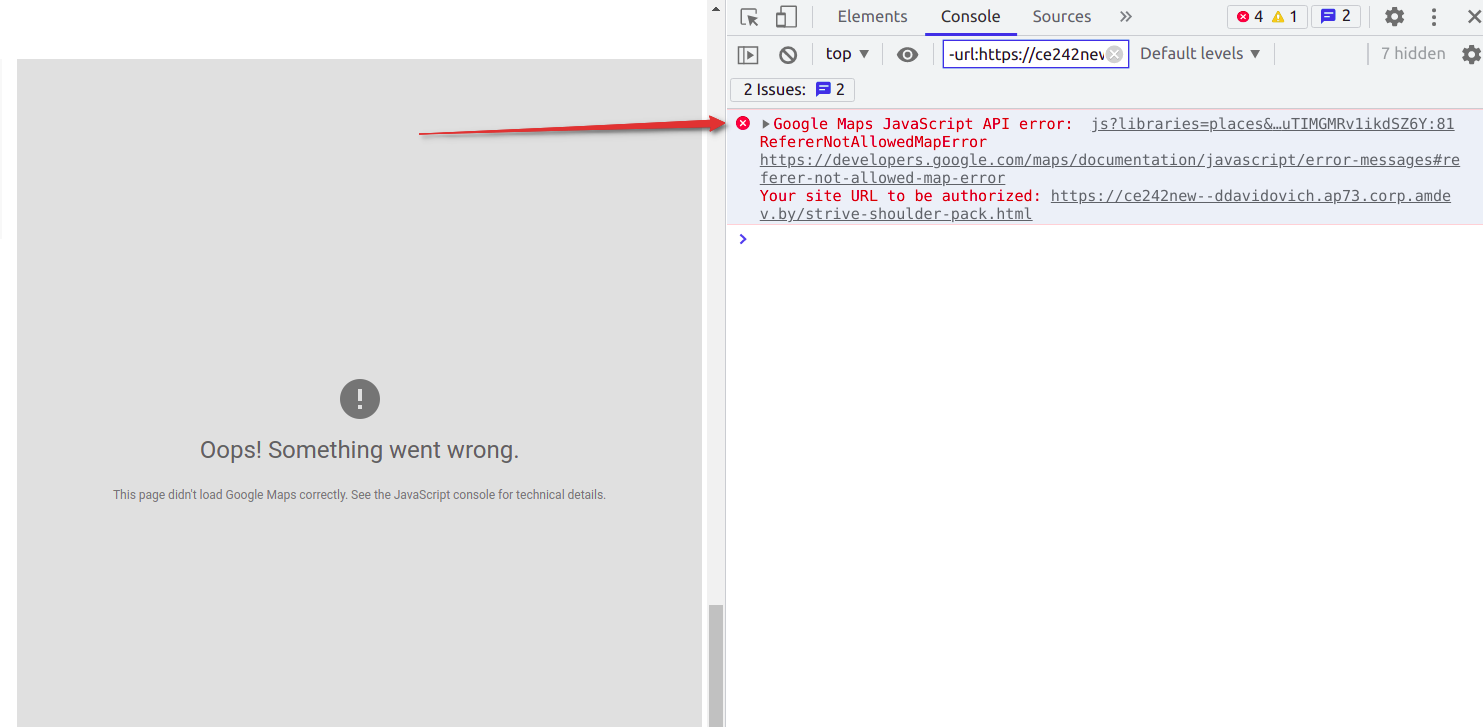 Alternatively, you may follow the below checklist to resolve the issue:
Go to

Stores > Configuration > Amasty Extensions > Store Locator

and check whether you've

inserted the Google API

Key

. Please use this

page

to get a key.






Make sure you have the following APIs enabled: Maps JavaScript API, Geocoding API & Places API. To check it, please, go to this page.




Check if billing is enabled and active. For additional information, please visit this page.

If the issue persists even though everything is configured properly, feel free to create a ticket with us so that we could assist with the resolution.

Related Articles

What's the difference between Store Pickup, Store Locator and Store Pickup with Locator?

Our Store Pickup extension adds a new free shipping method on the storefront and allows users to choose store pickup at checkout. You may add multiple points of sales and, on the storefront, the extension will automatically detect the nearest ...

Do I need to pay for Google API requests to use the Google Maps functionality?

Out of the box, Store Pickup with Locator provides the option of displaying locations on Google Maps to let customers easily find the nearest store. To function correctly, the feature requires an API key to be added in the global ...

The location isn't displayed correctly on the map. How to fix this?

When the location is configured, sometimes it can be wrongly displayed on the map. This happens when the longitude and latitude for the store location aren't specified correctly. You may check the values of those fields in Content > Locations > ...

How to add a clickable link to a location marker description?

In the locations settings (Content > Locations > choose the location > Address), it is possible to define a link to the store. However, it will not appear on the front end in the location marker by default. To add the website link to ...

How to change the location marker?

The Store Pickup with Locator allows uploading a custom location marker to be displayed on the map. To change the default one, please, navigate to Content > Locations > [Your Locations] > Location On Map and upload the marker image. Here ...
Announcements

Roadmap | What to expect in Q4'22

New features and improvements Elastic Search better performance of synonyms; REST API support. Product Labels enhanced extension performance with a lot of products on the page. Blog Pro posts migration from one Magento instance to another; email notifications

Already done in Q3'22

New solutions Our new SaaS tool - Website SEO Health Check. Discover the most severe SEO mistakes which can damage your website. Available as part of Pro and Premium SEO Toolkit. New features and improvements Import and Export NEW we added the possibility

What to expect in Q3'22

New features and improvements Improved Layered Navigation integration with Live Search. Elastic Search improved Relevance Rules functionality. Product Feed an option to add configurable options to product URL; possibility to use Quantity attribute as

Already Done in Q2'22

Brand-new extensions Google Page Speed Optimizer Powered by SpeedSize™ is a synergy of Amasty Google Page Speed Optimizer and SpeedSize, which will help you greatly increase the site performance due to code structure compression and neuroscience media

What to expect in Q2'22

Amasty always strives to deliver new functionality in accordance with the most popular customers' requests and e-commerce trends. In this article, we'll share our plans on new extensions, improvements, fixes, and other releases the team intends to be