What is a custom facet? How does it work?
Custom Facets or Custom Pages are masks for the filtered pages. When a user applies a specific filter or combination of filters, a Custom Facet is applied to change the content of the page.
Here is an example category page with
a simple filter by size applied: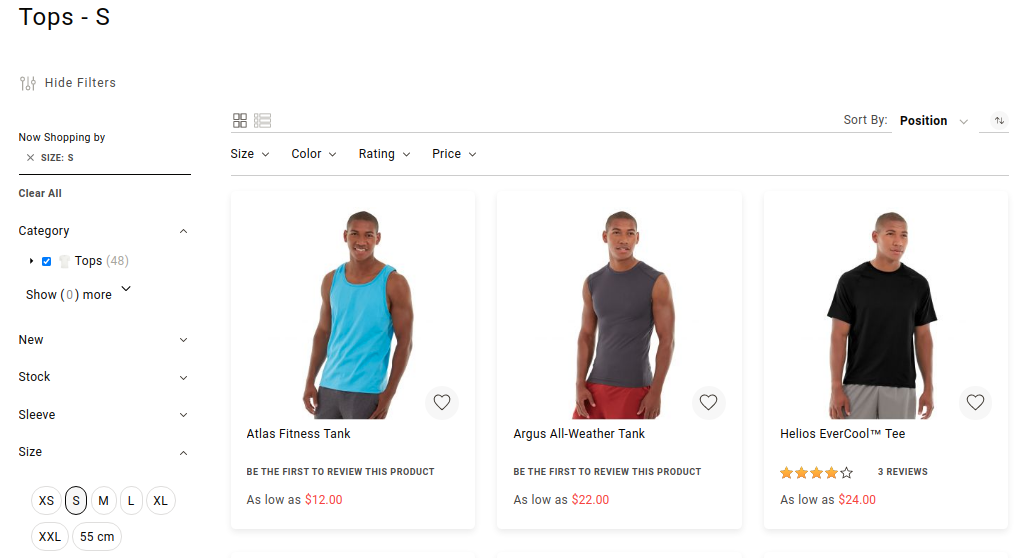 Same page with a Custom Facet — updated title, added a CMS block in the top of the page: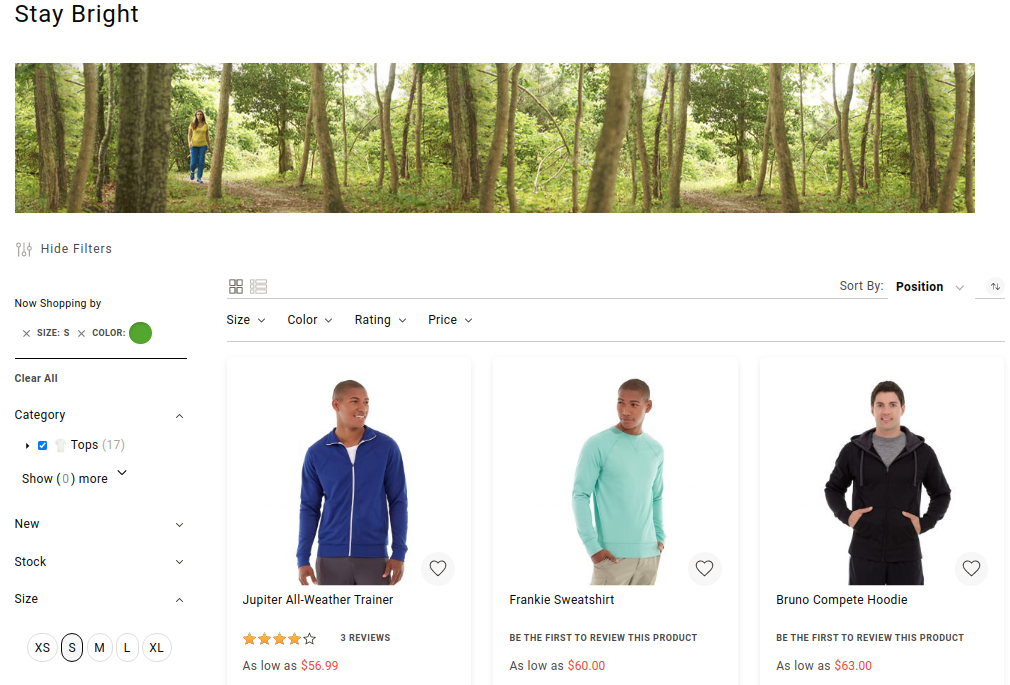 What content can be modified with the help of a Custom Facet:
Title and description of the page;




Images;




Top and Bottom CMS blocks;




Meta info, such as Meta Title, Meta Description, Meta Keywords, and the Canonical URL.



Facets can be applied to a specific category on one or several store views. This way you can broaden or narrow down the application of the Custom Facet.

Related Articles

How to disable Improved Layered Navigation on a specific store?

For multistore installations, this option is not covered. Although the settings for the Improved Layered Navigation module can be configured individually for each store view, the module cannot be disabled on a store view basis.

How to fix the Magento 2.4.5 Layered Navigation showing incorrect results issue?

After upgrading Magento to version 2.4.5 you can see the error: TypeError: Magento\Elasticsearch\Model\ResourceModel\Fulltext\Collection\SearchResultApplier::categoryProductByCustomSortOrder(): Argument #1 ($categoryId) must be of type int, array ...

How does the multi-select feature works for the category filter?

With the Amasty Improved Layered Navigation extension, it is possible to enable multi-select for the category filter. Enabling this feature changes the mechanics of the category filter. A category filter without multi-select works as a redirect to ...

How to resolve the "Please select brand attribute in Stores → Configuration → Amasty Extensions → Improved Layered Navigation: Brands." frontend error?

The message "Please select brand attribute in Stores → Configuration → Amasty Extensions → Improved Layered Navigation: Brands" appearing on your All Brands Page indicates that additional configuration is required to display the brands on the ...

Meta data for filters is not applied, is there a fix for it?

The extension allows changing some page properties like title, description, images, and CMS blocks, including some Meta data, when applying a filter. The feature requires configuration described below. Step 1. In the general extension settings ...