How does the multi-select feature works for the category filter?
With the Amasty Improved Layered Navigation extension, it is possible to enable multi-select for the category filter. Enabling this feature changes the mechanics of the category filter.
A category filter without multi-select works as a redirect to the category page. It is impossible to deselect the filter, only click go back in the browser.
The multi-select category filter works just like other filters, it can be easily unchecked: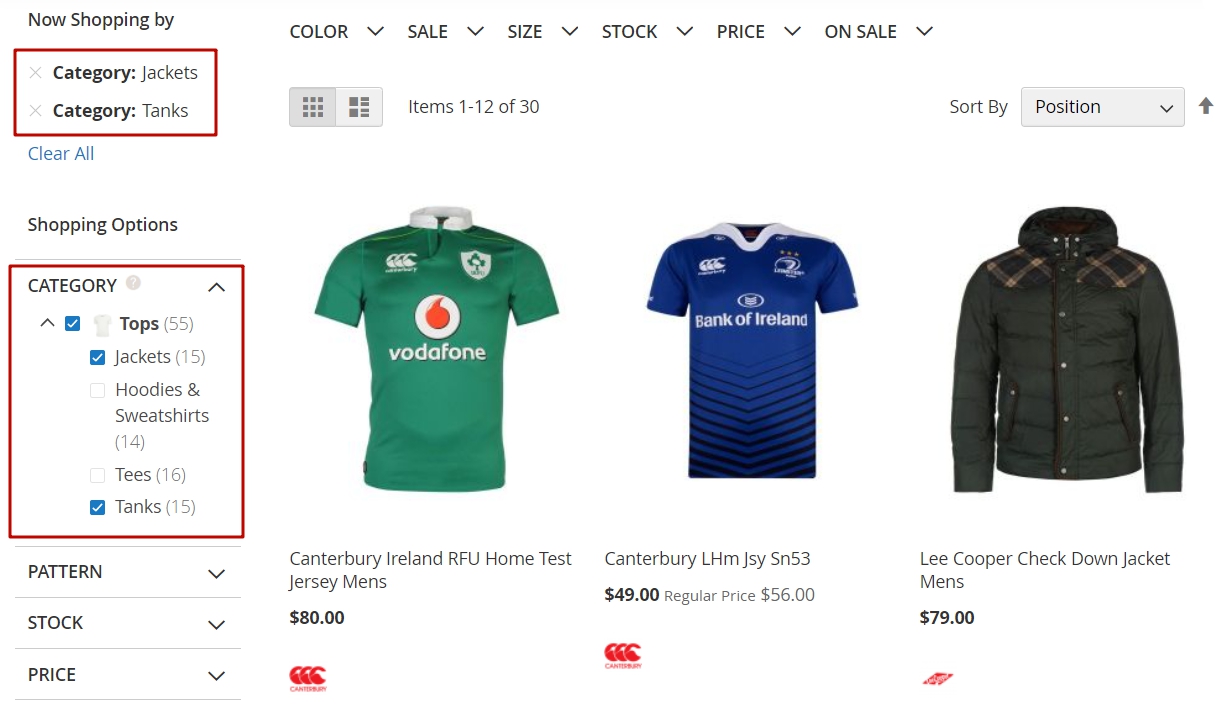 Nuances that may arise due to this difference:

SEO
If there is a need to use the SEO-friendly URLs, a category filter without a multi-select is a better option, since multi-select will put GET parameters in the URL disregarding the SEO settings.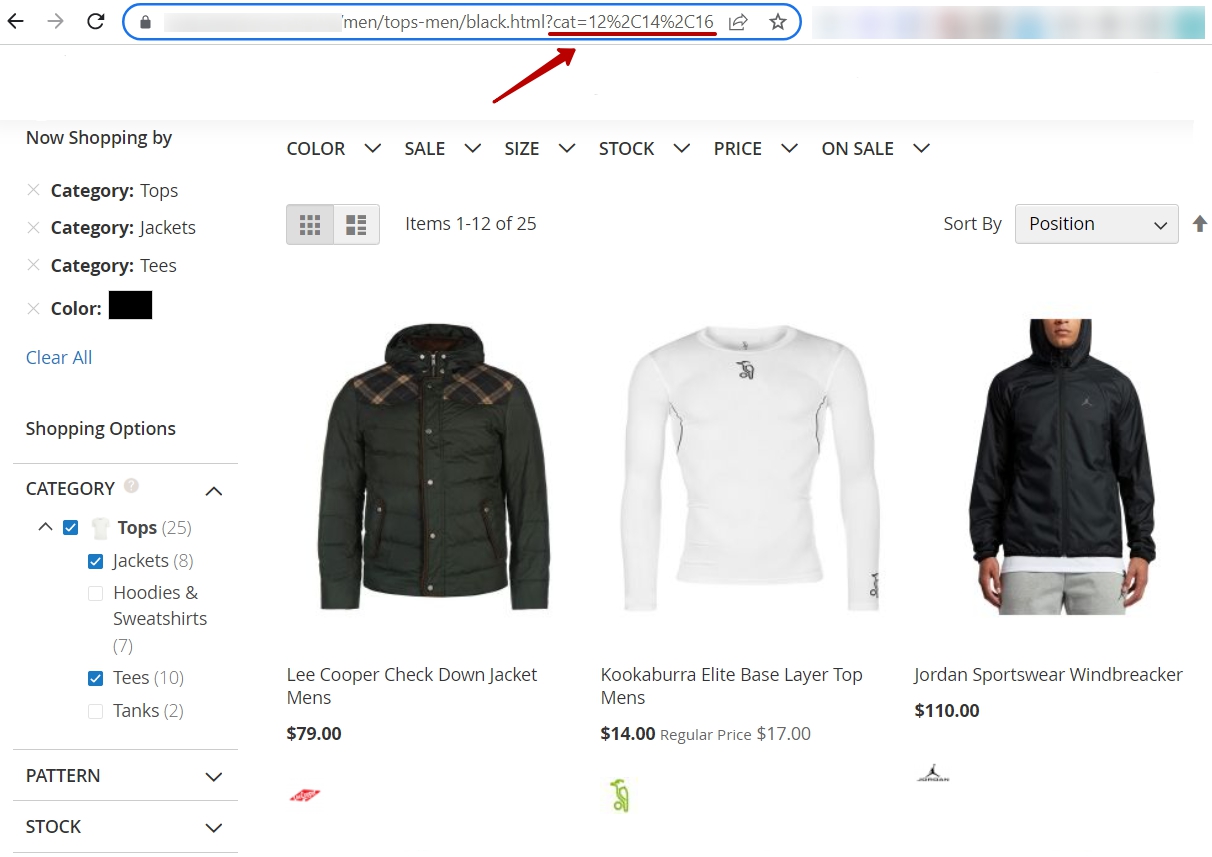 Custom Pages (Facets)

Sometimes it is needed to access facets of the child categories from the parent category. Though it is possible to add the facet to the parent category as well, this won't work with multiple facets. For example, if we have a Parent category (Bottoms) and we'd like to access individual custom pages which are displayed if we pick certain attributes (color: Gray) on each of the child subcategories (Pants and Shorts) the multi-select prevents us from doing so.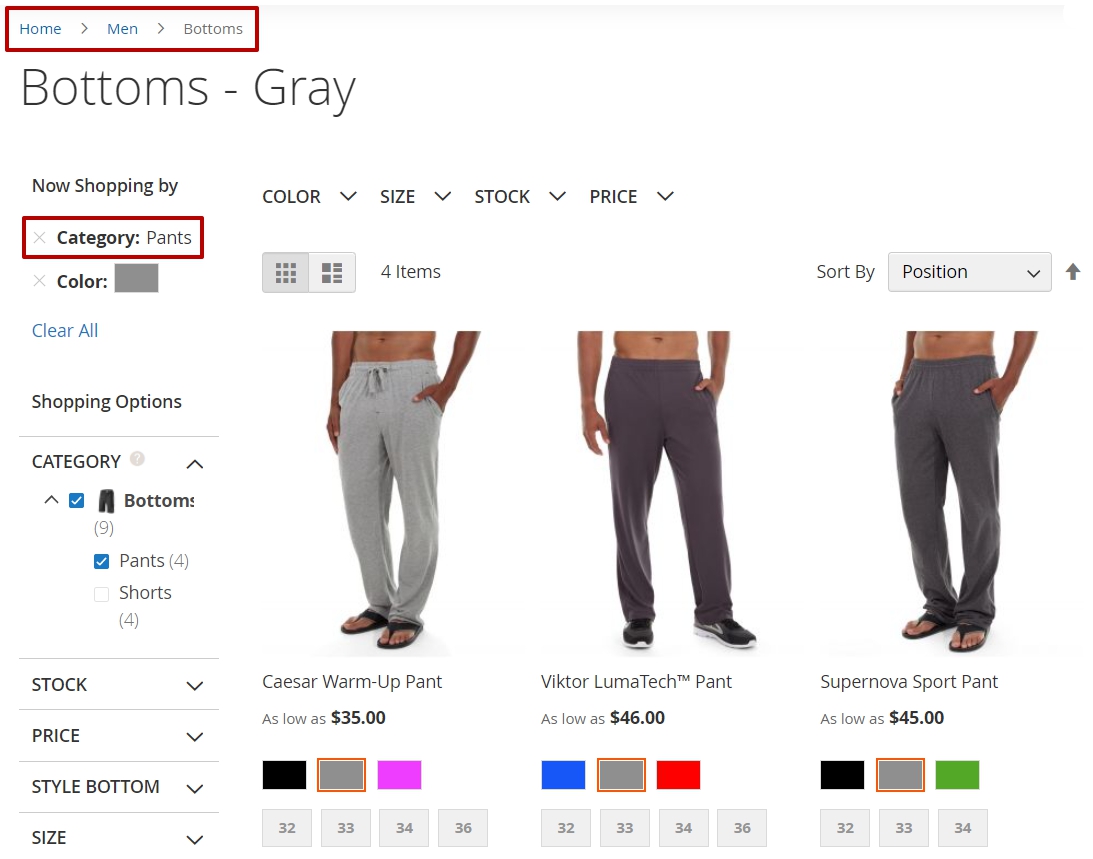 A category filter without multi-select will function as a redirect. Thus, if we pick the bray color on the parent category (Bottoms) and then pick the Pants or Shorts category in the category filter, we will be able to access the unique facet.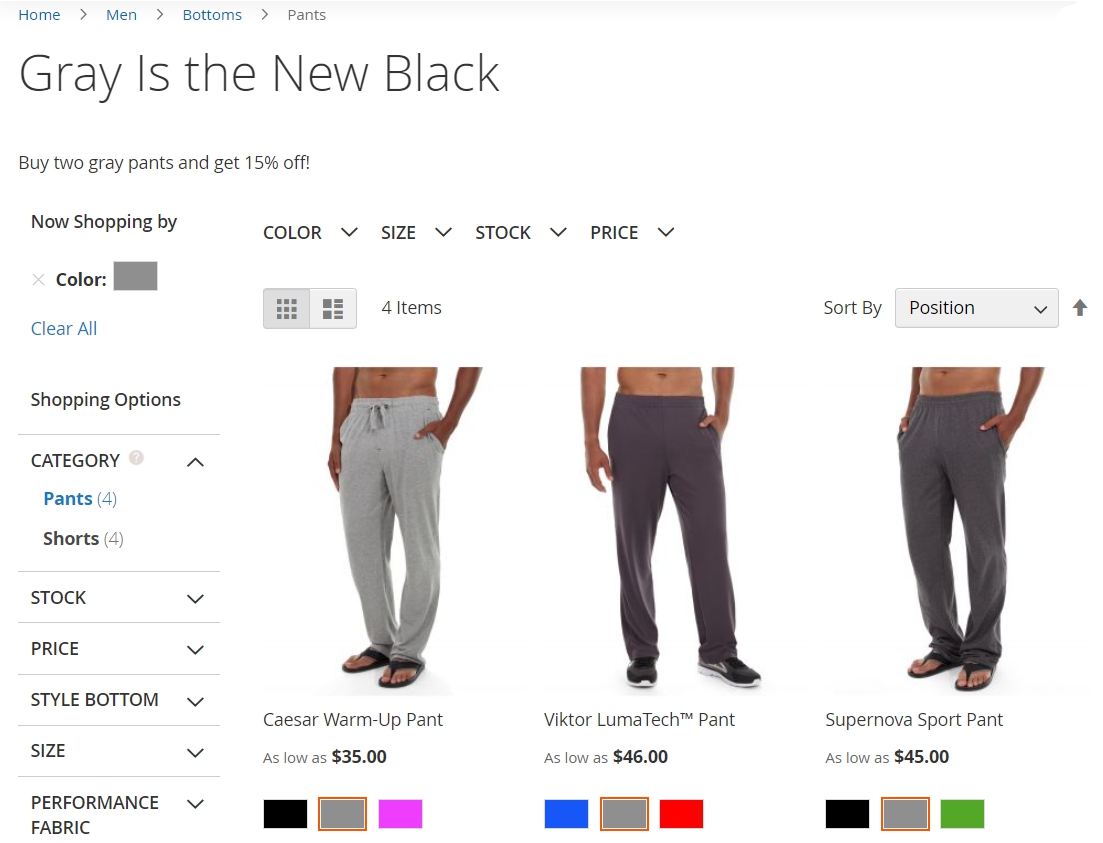 Related Articles

How to disable filter by category?

Unlike the default Magento, the Improved Layered Navigation module allows disabling filtering by category. To do that, navigate to Magento Admin Panel → Stores → Configuration → Amasty Extensions → Improved Layered Navigation → "Category" ...

How to enable SEO-friendly URLs?

Improved Layered Navigation provides the functionality to optimize URLs of filtered catalog pages for search engines. The URLs will become short and clear. To globally manage SEO URLs, please go to Stores > Configuration > Amasty ...

What is a custom facet? How does it work?

Custom Facets or Custom Pages are masks for the filtered pages. When a user applies a specific filter or combination of filters, a Custom Facet is applied to change the content of the page. Here is an example category page with a simple ...

How to hide a specific category from a category filter?

To hide a specific category from the Category filter, navigate to categories configuration page (Catalog > Categories), choose the required category and expand the Display Settings tab. There you will find the Exclude from Category Filter ...

Meta data for filters is not applied, is there a fix for it?

The extension allows changing some page properties like title, description, images, and CMS blocks, including some Meta data, when applying a filter. The feature requires a certain configuration: 1. In the general extension settings ...
Announcements

Already Done in Q1'23

New features and improvements Order Attributes v3.8.0 NEW now Order Attributes are placed on the PayPal Review Page; we added compatibility with Hyvä Theme for the module. You can find package for installing in composer suggest (Note: the compatibility

Roadmap | What to expect in Q1'23

New features and improvements Improved Layered Navigation generate SEO-friendly URLs for multi-select Category filter; better speed performance of the Apply filters button; improve Category list load time. Special Promotions Pro optimize data types in

Already Done in Q4'22

New Amasty services Make sure your site is well-performing with our E-commerce QA testing service. Let our specialists check various elements of your website and get the issues fixed. The service is available for any e-commerce platform (Magento, Shopify,

Roadmap | What to expect in Q4'22

New features and improvements Elastic Search better performance of synonyms; REST API support. Product Labels enhanced extension performance with a lot of products on the page. Blog Pro posts migration from one Magento instance to another; email notifications

Already done in Q3'22

New solutions Our new SaaS tool - Website SEO Health Check. Discover the most severe SEO mistakes which can damage your website. Available as part of Pro and Premium SEO Toolkit. New features and improvements Import and Export NEW we added the possibility