Test connection fails with error "Unable to open SFTP connection as...", what might be the issue?
This error message appears as a result of an unsuccessful test connection. First thing is to double-check the credentials from the FTP settings tab. There's a chance that one of these values was entered with a typo, either the password or user name is wrong, or there's an extra-spacing in one of these fields.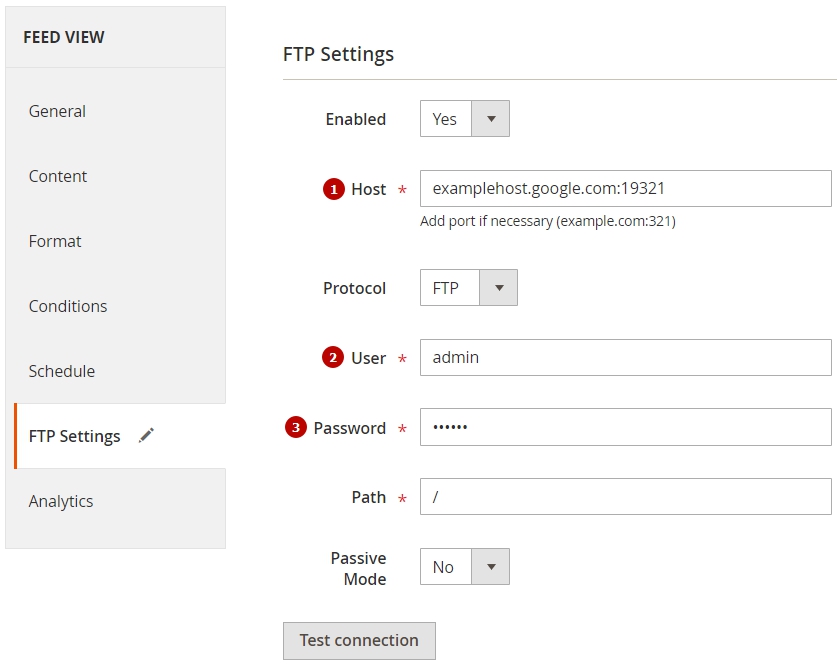 If the credentials are confirmed to be valid, yet the problem remains, it could be an internal server issue that causes this error.
Please make sure that the firewall rules or, in general, the server allow connecting to the specified host and port and open for outbound connections. Once it's enabled, the problem should be resolved.

Related Articles

How to submit product feed to Google Merchant?

Once the feed is created in the Magento, you can upload it to the Google Merchant, following these simple steps. 1. Create a primary feed in your personal Google Merchant account in Products → Feeds. 2. Specify the basic ...

How to add shipping attributes to the Google Merchant feed?

The module itself does not calculate any shipping values - weight, prices, etc. as those are calculated during checkout. Shipping costs for the products in the feed should be specified in the marketplaces where this feed will be uploaded. ...

Does the module work for Facebook shop, Google merchant as well as Instagram shop, Pinterest?

Our Product Feed extension has pre-made templates for Google Merchant and Facebook, Amazon, Bing platforms. All the available templates can be found in Catalog > Feeds > Profiles on the arrow sign click: Templates contain basic settings of ...

Generating a feed returns an error "Something went wrong: SQLSTATE[42S02]: Base table or view not found: 1146 Table '****inventory_stock_1' does not exist". How to fix this issue?

This error occurs when the inventory module is enabled, yet the inventory is not used. The issue can be resolved by adjusting the InventoryResolver.php file that is located either in the app/code/Amasty/Feed/Model/ or vendor/amasty/feed/Model/ ...

How should I submit configurable products with their variants to Google Merchant?

Google advises using the item group ID [item_group_id] attribute to group product variants in the product data. Variants are a group of similar products that only differ from one another by product details like size [size], color [color], ...
Announcements

Roadmap | What to expect in Q4'22

New features and improvements Elastic Search better performance of synonyms; REST API support. Product Labels enhanced extension performance with a lot of products on the page. Blog Pro posts migration from one Magento instance to another; email notifications

Already done in Q3'22

New solutions Our new SaaS tool - Website SEO Health Check. Discover the most severe SEO mistakes which can damage your website. Available as part of Pro and Premium SEO Toolkit. New features and improvements Import and Export NEW we added the possibility

What to expect in Q3'22

New features and improvements Improved Layered Navigation integration with Live Search. Elastic Search improved Relevance Rules functionality. Product Feed an option to add configurable options to product URL; possibility to use Quantity attribute as

Already Done in Q2'22

Brand-new extensions Google Page Speed Optimizer Powered by SpeedSize™ is a synergy of Amasty Google Page Speed Optimizer and SpeedSize, which will help you greatly increase the site performance due to code structure compression and neuroscience media

What to expect in Q2'22

Amasty always strives to deliver new functionality in accordance with the most popular customers' requests and e-commerce trends. In this article, we'll share our plans on new extensions, improvements, fixes, and other releases the team intends to be