Is it possible to use a gift card for several orders?
A gift card of a large denomination can cover the cost of several orders. To allow application of a gift card to several orders, ensure that the multiple usages option is enabled on its product configuration page (Catalog > Products > choose the required gift card):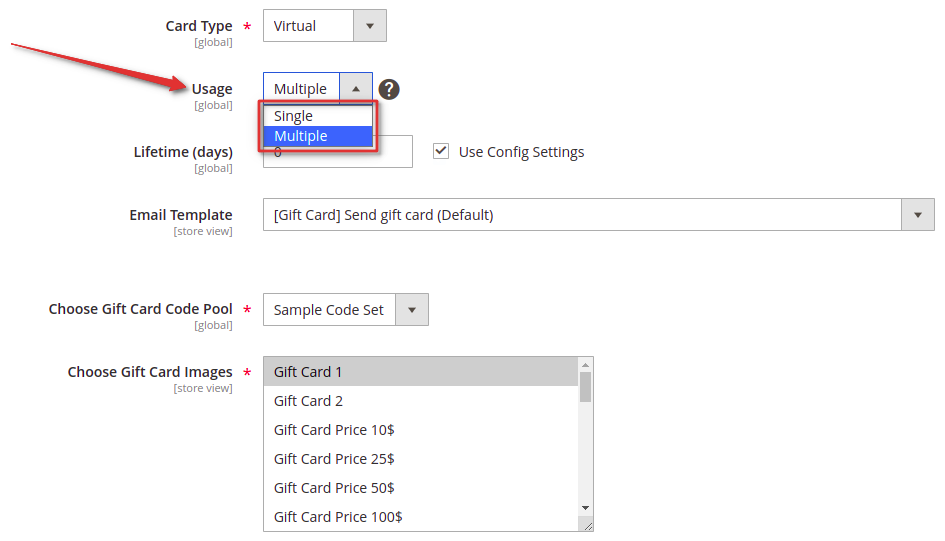 In such a case, for example, if the gift card is valued at $100 and the customer has spent $10, then the card's remaining balance can be used for other orders: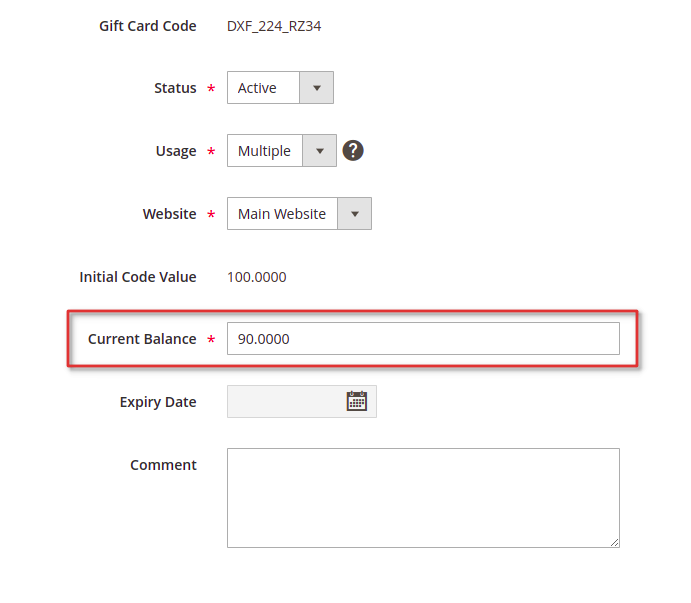 Please note that i
t's not possible to use a certain amount from the gift card balance. If the order total exceeds the gift card balance, the card will be used in full: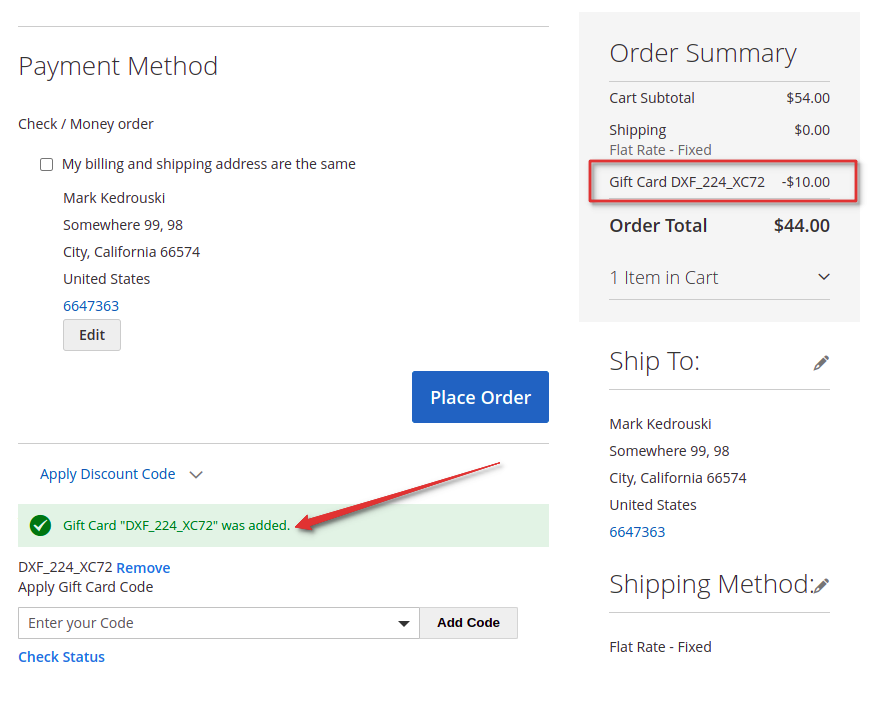 Related Articles

Is it possible to use several gift card codes while placing an order?

Starting from 2.9.0 extension version, the admin can set the maximum gift card codes qty to be applied in one order. The setting is located at Stores → Configuration → Amasty Extensions → Gift Card → Gift Card Account → Gift Card Code Qty ...

Can I restrict multiple usage of a gift card code?

The Gift Card Pro and Premium tariffs provide an option to restrict/allow multiple usage for specific gift card codes. To do so, proceed to Gift Card > Accounts and select an account you would like to edit. The Usage option may be set to either ...

Does the Export Orders extension include fields from other Amasty modules I use?

Yes, the extension is integrated with some other Amasty modules such as One Step Checkout, Order Attributes, RMA, Gift Card. If these extensions are installed, the additional corresponding tabs appear in the Fields Configuration section on the ...

How to activate the gift card account?

The gift card account is created automatically when the order is invoiced and paid. If the order has the Complete status but the code of the gift card is not activated and can't be applied, please contact our team.

Is it possible to rearrange and stylize elements on the gift card image?

Starting from version 2.7.0, the Gift Card extension provides UI for editing and rearranging elements (expiry date, balance, etc.) on the gift card image right from the admin panel. To do so, add a new image in Gift Card → Images → Add New or ...
Announcements

Already Done in Q4'22

New Amasty services Make sure your site is well-performing with our E-commerce QA testing service. Let our specialists check various elements of your website and get the issues fixed. The service is available for any e-commerce platform (Magento, Shopify,

Roadmap | What to expect in Q4'22

New features and improvements Elastic Search better performance of synonyms; REST API support. Product Labels enhanced extension performance with a lot of products on the page. Blog Pro posts migration from one Magento instance to another; email notifications

Already done in Q3'22

New solutions Our new SaaS tool - Website SEO Health Check. Discover the most severe SEO mistakes which can damage your website. Available as part of Pro and Premium SEO Toolkit. New features and improvements Import and Export NEW we added the possibility

What to expect in Q3'22

New features and improvements Improved Layered Navigation integration with Live Search. Elastic Search improved Relevance Rules functionality. Product Feed an option to add configurable options to product URL; possibility to use Quantity attribute as

Already Done in Q2'22

Brand-new extensions Google Page Speed Optimizer Powered by SpeedSize™ is a synergy of Amasty Google Page Speed Optimizer and SpeedSize, which will help you greatly increase the site performance due to code structure compression and neuroscience media