I see half-empty columns in the export file. How can I fix it?
This is the default behavior of export modules. Duplicated data is not automatically added to child rows of the parent entities for the purpose of optimizing database queries during the export process and reducing the size of the final export file.
If you do require child rows to be filled with the duplicated data, in the export profile, open the File Settings tab and enable the Duplicate Parent Entity Data setting; this should do the trick: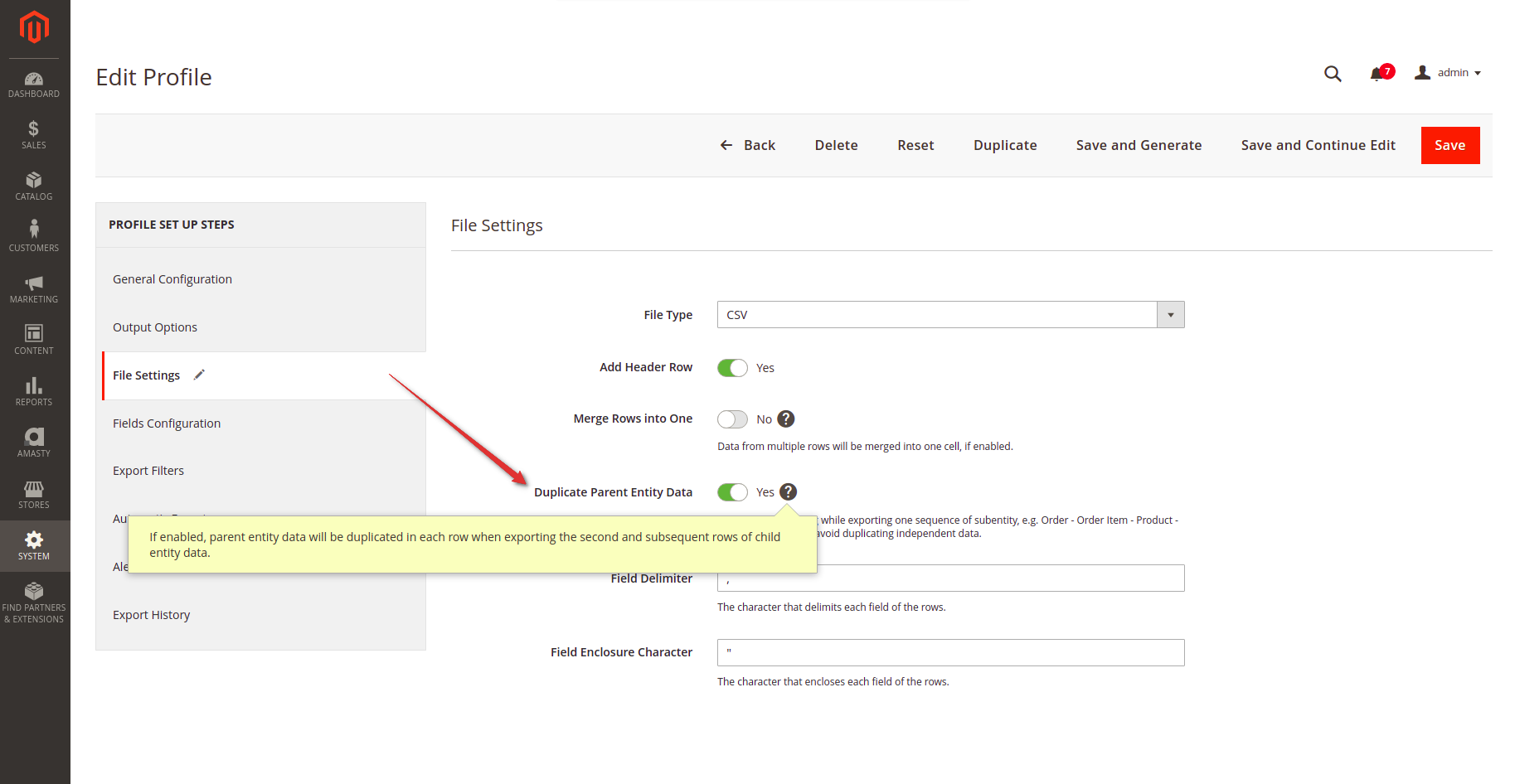 Related Articles

Is it possible to import data to Magento with a custom file?

It is possible to use a custom import file, but there are a few peculiarities that must be taken into account. Import modules provide features for flexible configuration of the import file like setting custom entity and field names or ...

Is it possible to integrate a third-party system into Magento via the Import & Export solution?

With the Import & Export solution, it is possible to connect Magento to third-party systems; all its modules support automatic import and export of data to external sources via various methods: However, it is important to follow the ...

Is it possible to use custom XML file structure to import and export data?

All Import and Export modules provide the functionality of creating your own XML file via special XSL editor: The XLS template configuration depends on the user requirements, however, below provided the example of the XLS template: <?xml ...

What features are included in each tariff plan of Import and Export?

LITE Features: - one-time manual import/export tasks; - 3 entities: orders, products, customers; - text, numeric, and date field modifiers; - export filters; - 2 file formats: XML, CSV; - 2 file sources: file upload, local directory. PRO Lite plan + ...

Feed is empty after download - how to fix that?

If the feed was created via the custom feed template in .xml, .txt, or .csv formats, it is required to manually add some product attributes to it because initially, the custom template does not contain any attributes. For that, navigate ...
Announcements

Already Done in Q4'22

New Amasty services Make sure your site is well-performing with our E-commerce QA testing service. Let our specialists check various elements of your website and get the issues fixed. The service is available for any e-commerce platform (Magento, Shopify,

Roadmap | What to expect in Q4'22

New features and improvements Elastic Search better performance of synonyms; REST API support. Product Labels enhanced extension performance with a lot of products on the page. Blog Pro posts migration from one Magento instance to another; email notifications

Already done in Q3'22

New solutions Our new SaaS tool - Website SEO Health Check. Discover the most severe SEO mistakes which can damage your website. Available as part of Pro and Premium SEO Toolkit. New features and improvements Import and Export NEW we added the possibility

What to expect in Q3'22

New features and improvements Improved Layered Navigation integration with Live Search. Elastic Search improved Relevance Rules functionality. Product Feed an option to add configurable options to product URL; possibility to use Quantity attribute as

Already Done in Q2'22

Brand-new extensions Google Page Speed Optimizer Powered by SpeedSize™ is a synergy of Amasty Google Page Speed Optimizer and SpeedSize, which will help you greatly increase the site performance due to code structure compression and neuroscience media