I have configured several shipping rates, but only one of them is shown on the storefront. How to fix that?
Such behavior is expected - according to the logic of the Shipping Table Rates extension, only one rate from the method is displayed on the storefront.
It means that, if you have one Shipping Table Rates method with multiple rates inside, a single rate will be displayed on the frontend - the one that suits the conditions of the cart the most. In the example below, a customer is offered a rate that matches the Shipping Country condition selected on the storefront: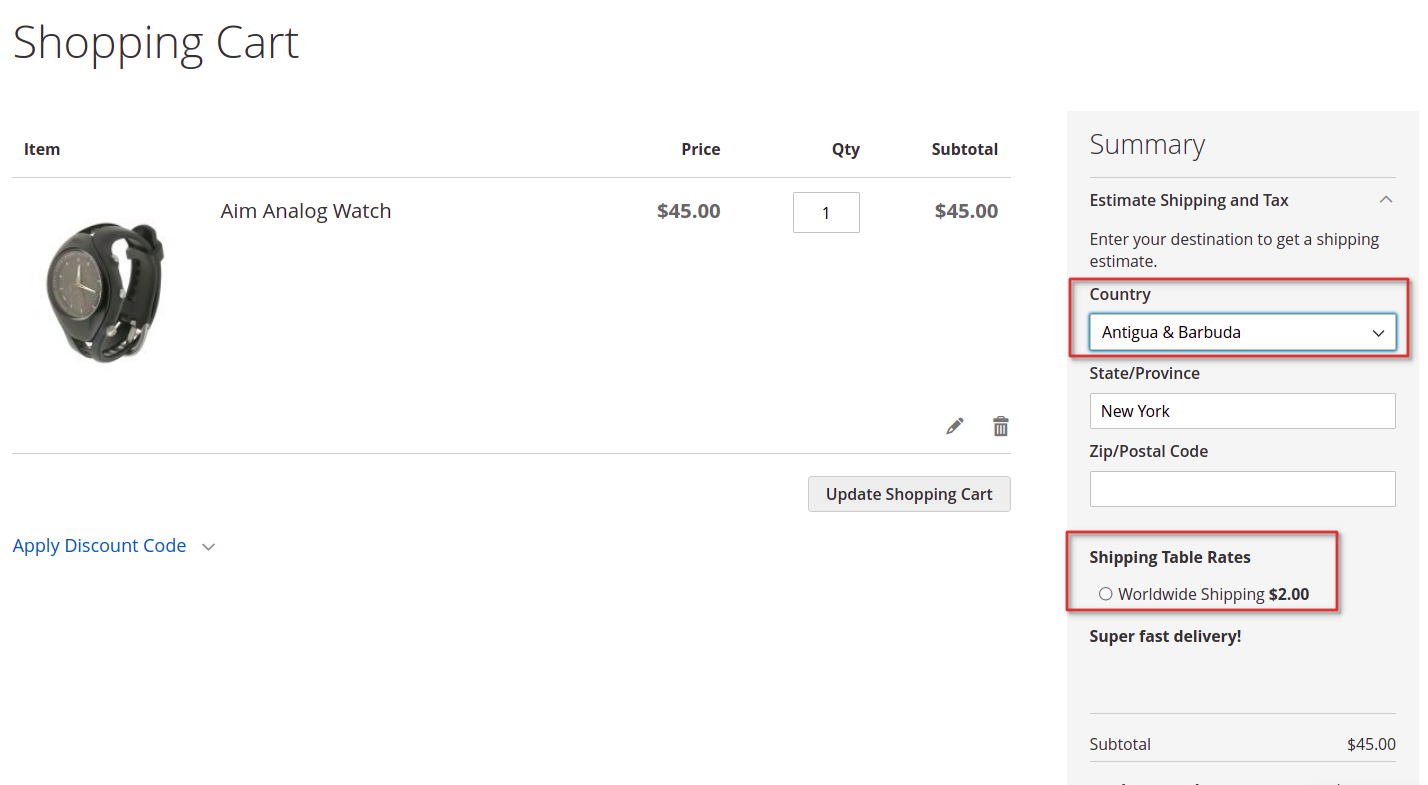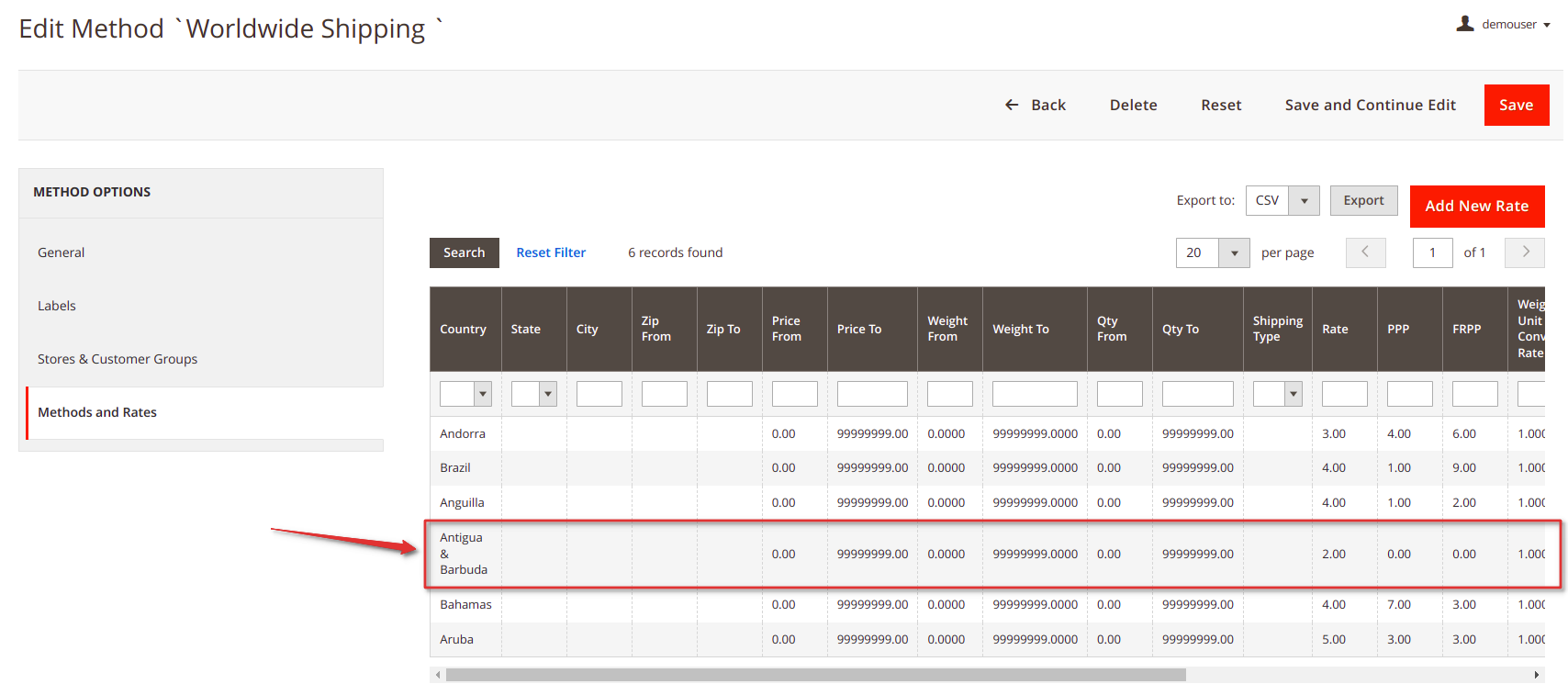 In case your rates are configured for particular shipping types, either the minimal/maximal rate value, or the sum of all rates will be applied to the order. The logic for the mixed cart is to be defined in the method settings (Magento admin panel > Sales > Shipping Table Rate > your method name) at Rates > For products with different shipping types: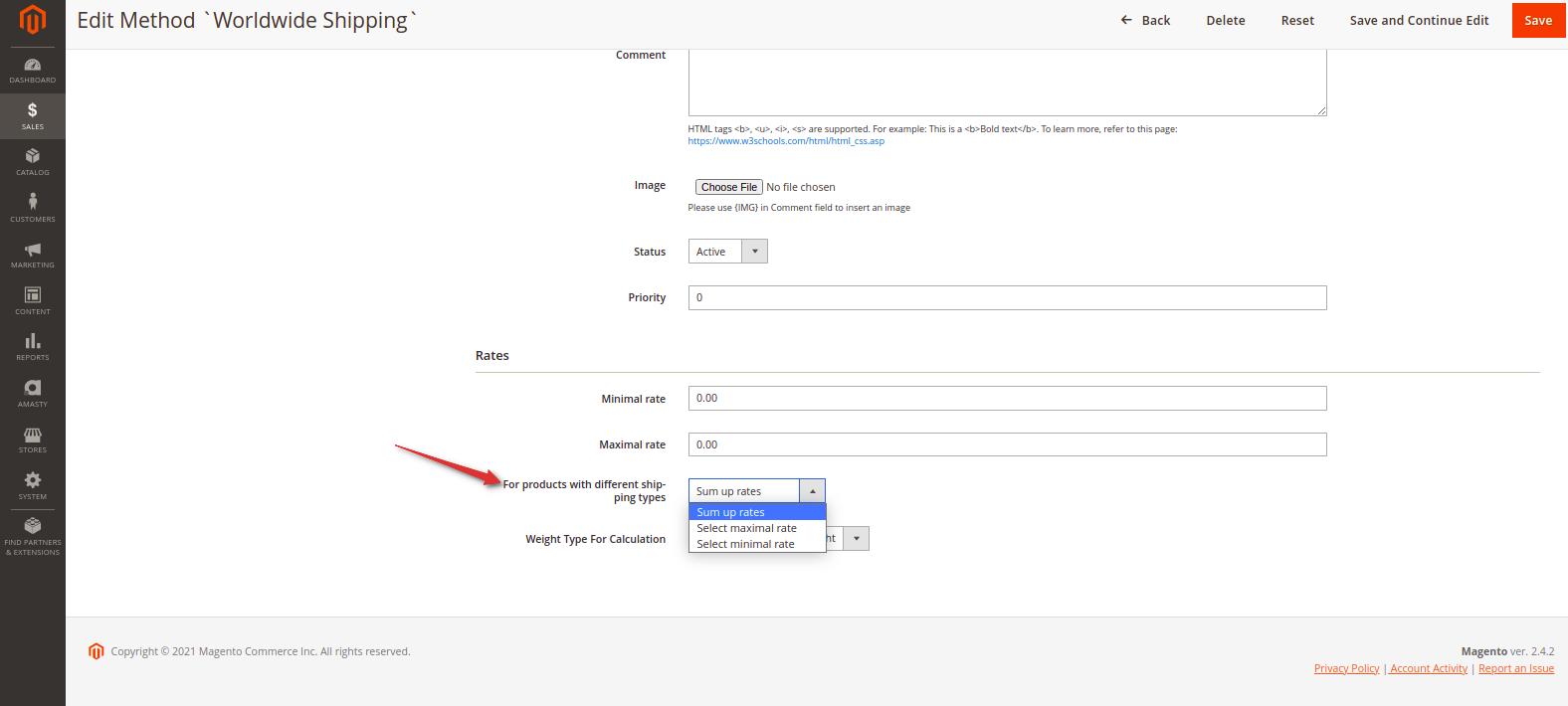 If you'd like to display several shipping options at the same time, you'll need to create separate methods that will contain separate shipping rates inside:

The result on the storefront will be as follows: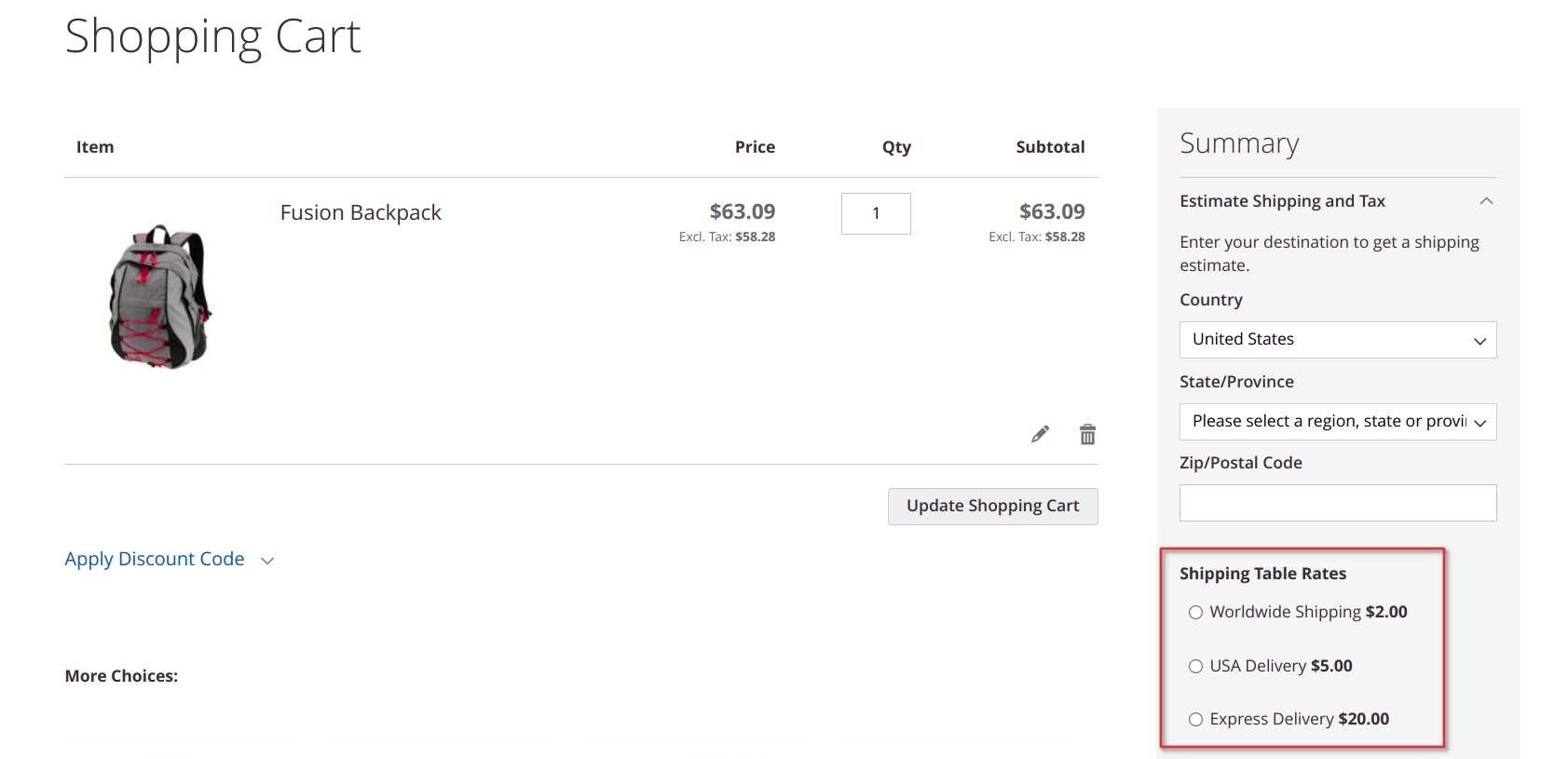 Related Articles

How to fix the errors while importing CSV with the shipping table rates?

If you are facing difficulties with importing a CSV file, it is necessary to check if the following conditions are met: 1. The country spelling in the CSV file is identical to the spelling of country names at Stores > Configuration > ...

Why the shipping method isn't displayed for the cart that contains products with different shipping types?

In case your shipping behavior is based on offerring different shipping rates for different shipping types, note that, for the shipping method to be visible on the storefront, it should contain the rates for all shipping types inside it. ...

The shipping method doesn't show up on the frontend. How do I fix it?

If the shipping methods created with Shipping Table Rates are missing on the frontend, it is necessary to make sure that: 1. The extension is enabled at Stores > Configuration > Sales > Shipping Methods for the right store(s), and the ...

How do I exclude postcodes while setting up shipping table rates?

Out of the box, the Shipping Table Rates module does not allow excluding postcode ranges. However, this feature is presented in our Shipping Rules and Shipping Restrictions extensions. With the help of the Shipping Areas submodule that ...

How can I add a surcharge for a particular rate?

If you need to add surcharges, you may consider one of the options below: 1. Add a surcharge in the Shipping Table Rates extension. It will be necessary to create additional rates for this purpose. For example, if you have a ...
Announcements

Already Done in Q2'22

Brand-new extensions Google Page Speed Optimizer Powered by SpeedSize™ is a synergy of Amasty Google Page Speed Optimizer and SpeedSize, which will help you greatly increase the site performance due to code structure compression and neuroscience media

What to expect in Q2'22

Amasty always strives to deliver new functionality in accordance with the most popular customers' requests and e-commerce trends. In this article, we'll share our plans on new extensions, improvements, fixes, and other releases the team intends to be

March'22 results

New Solutions In March, the team presented two new suites that combine features of top Amasty extensions and are attractive price-wise: Must-Haves Suite. Don't know how to grow your business or what to start with? Get our must-have set of features for

February'22 results

Time to check the results of February! It's been a tough end to the month, but let's digress a bit and check out what the team has done. Extensions updates. Besides technical fixes, February was rich in new features and improvements: Jet

January'22 results

Can't help but start with the biggest news of the past month: Amasty switched to Product Subscriptions. It means that all extensions can now be acquired by subscription only. The initially purchased code of the module is still available in the customer