I'd like to apply discounts to gift cards. How can I do that?
The functionality of applying cart price rules is available in the Pro and Premium tariffs of the
module
, and the rule can be set in the Admin Panel in
Marketing > Cart Price Rules.
If you'd like to upgrade to the Pro or Premium version of the module, please contact our Support Team.
To permanently sell gift card products for a price lower than their value, you may also use the Fee for Purchase functionality, available in all Gift Card tariff options. In
Catalog > Products
, select the Gift Card product and open its edit page. Scroll down to the Amasty Gift Card Prices tab and check the
Enable Fee for Purchase
setting: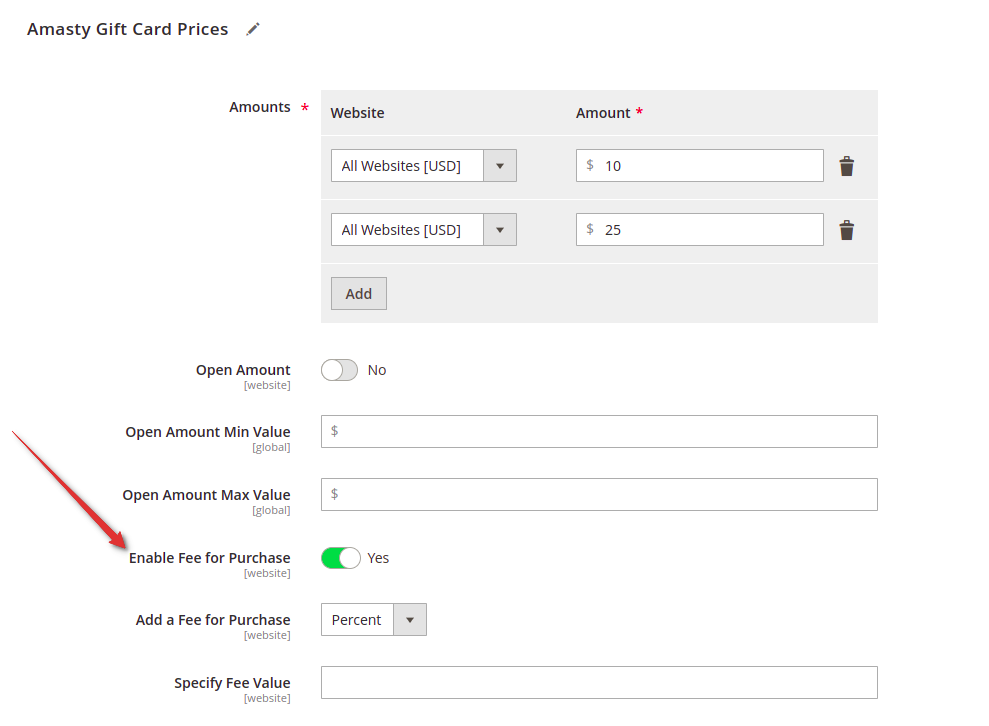 The module offers two fee calculation options: percent and fixed. Select the option you find most suitable: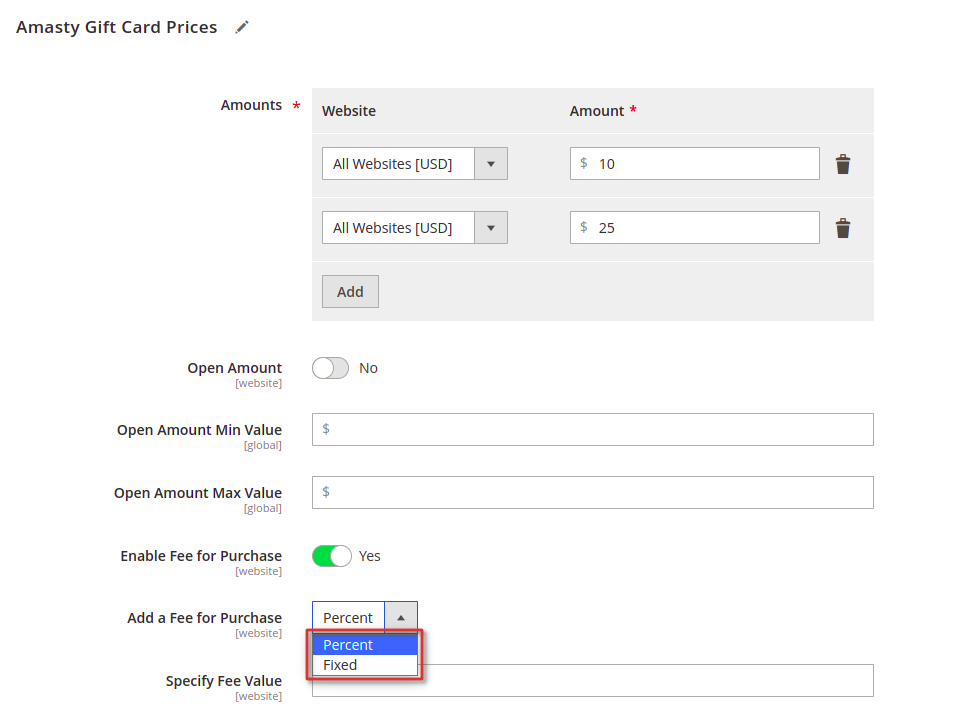 Using a positive value will add the fee to the gift card value, making the price higher. To make the price lower than the card's actual value, enter a negative value in the
Specify Fee Value
field and save the product: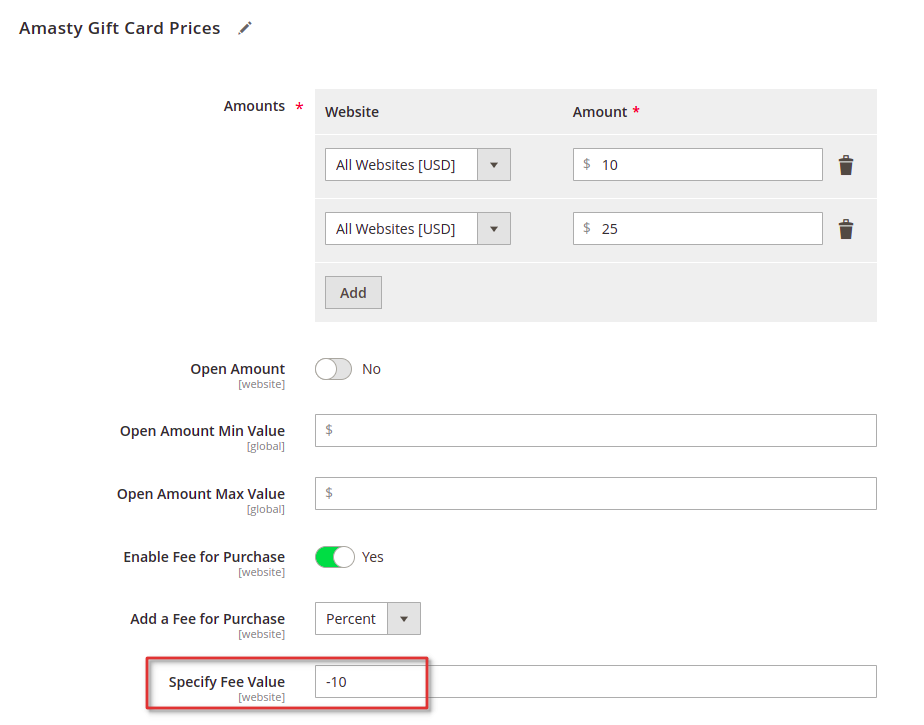 On the storefront, the prices will show correspondingly now: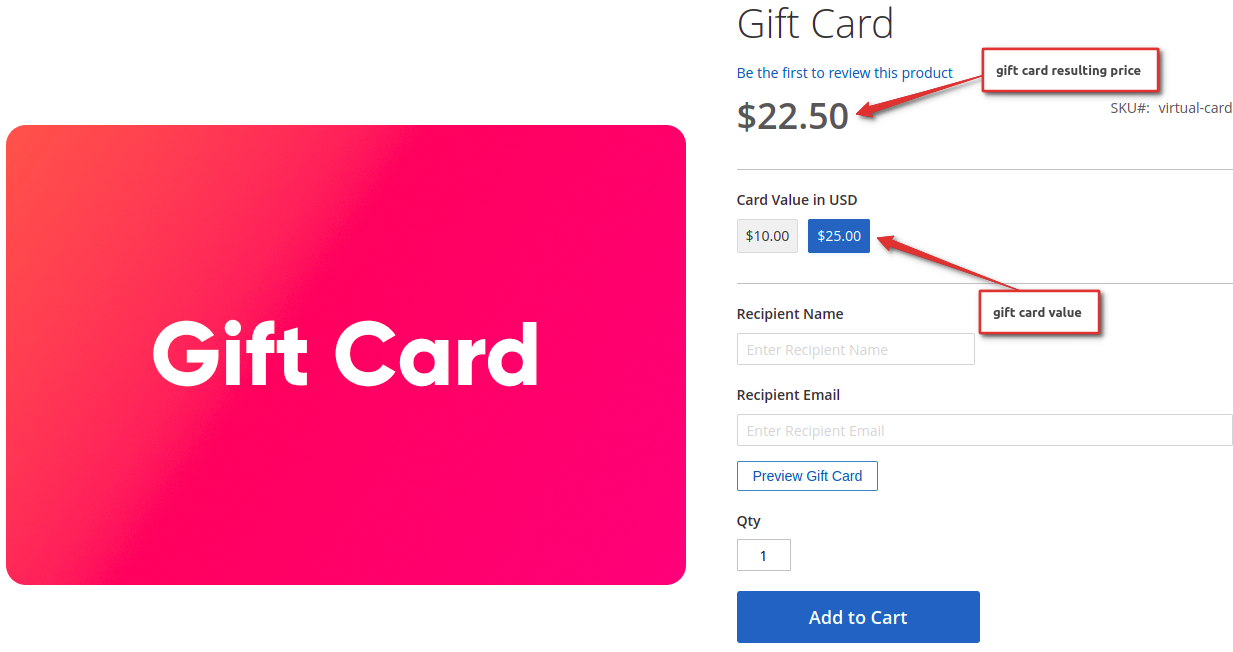 Announcements

Already Done in Q2'22

Brand-new extensions Google Page Speed Optimizer Powered by SpeedSize™ is a synergy of Amasty Google Page Speed Optimizer and SpeedSize, which will help you greatly increase the site performance due to code structure compression and neuroscience media

What to expect in Q2'22

Amasty always strives to deliver new functionality in accordance with the most popular customers' requests and e-commerce trends. In this article, we'll share our plans on new extensions, improvements, fixes, and other releases the team intends to be

March'22 results

New Solutions In March, the team presented two new suites that combine features of top Amasty extensions and are attractive price-wise: Must-Haves Suite. Don't know how to grow your business or what to start with? Get our must-have set of features for

February'22 results

Time to check the results of February! It's been a tough end to the month, but let's digress a bit and check out what the team has done. Extensions updates. Besides technical fixes, February was rich in new features and improvements: Jet

January'22 results

Can't help but start with the biggest news of the past month: Amasty switched to Product Subscriptions. It means that all extensions can now be acquired by subscription only. The initially purchased code of the module is still available in the customer