How to upload feed to Facebook?
Please follow the below instructions to create a Facebook feed with the scheduled generation synced with Magento 2.
Set up the initial product catalog in Facebook business account in
Data Sources → Data Feed → Next
.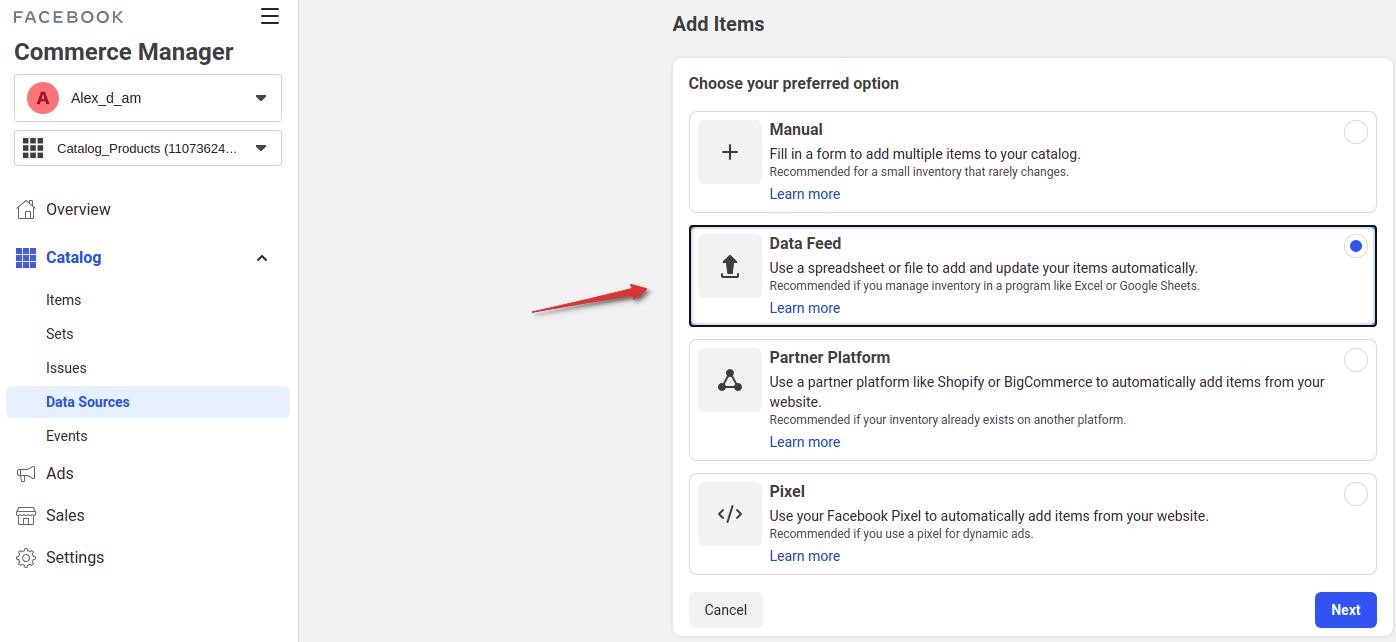 Then specify all the required settings following the steps offered by Facebook.

Step 1.
In the first step, choose upload option.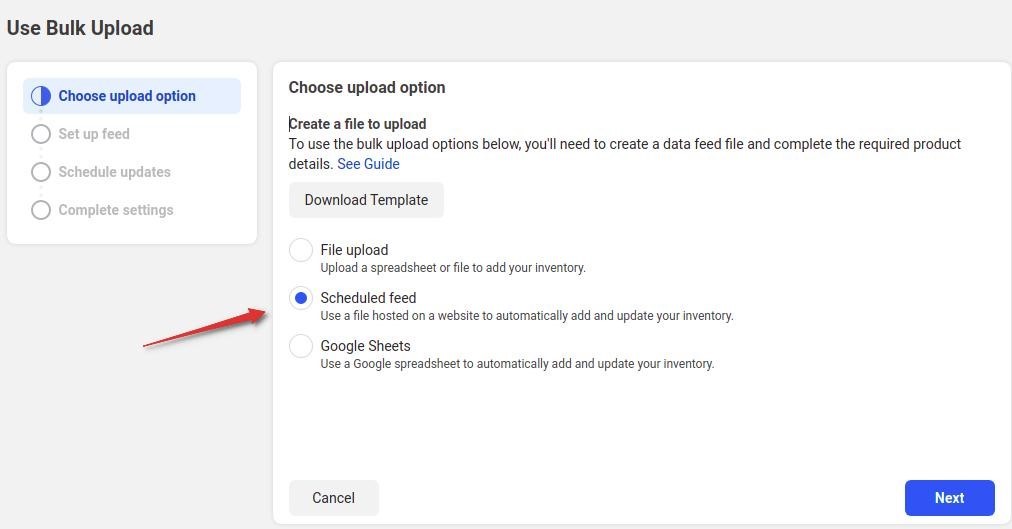 Step 2.
From the product feed grid, select a feed that should be added to Facebook catalog by copying its link. You may use the Google Feed template to create a feed for Facebook and adjust it if needed, as the requirements for the attributes are similar.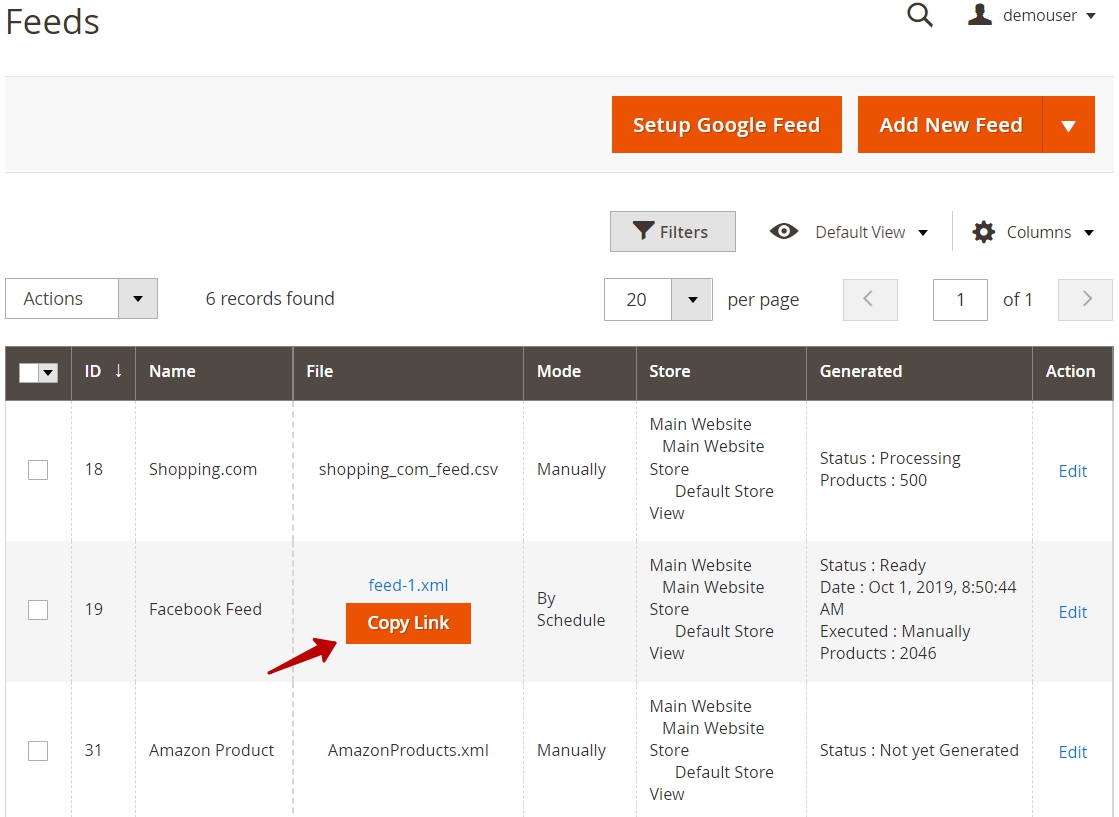 Step 3.
Paste this link to the
Enter URL
field.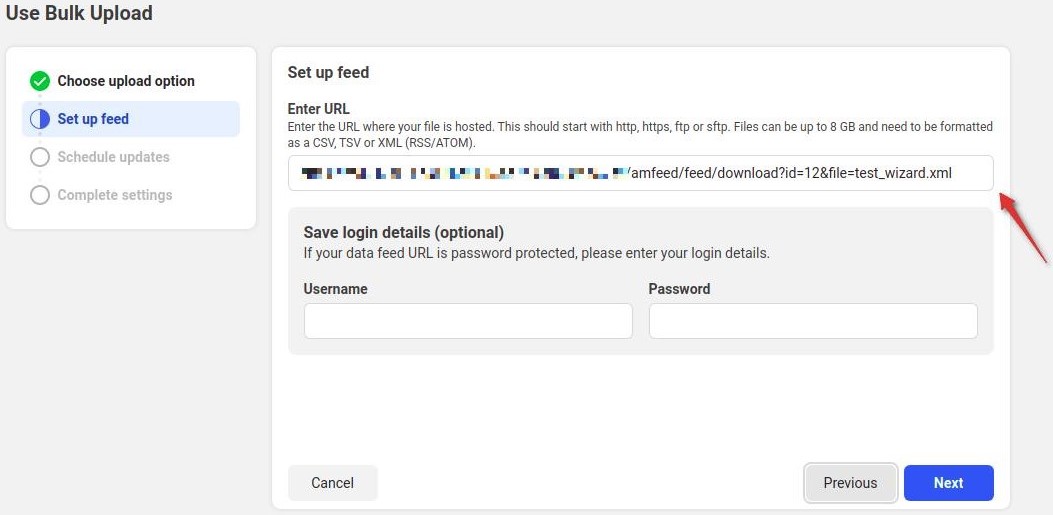 Step 4.
Configure a schedule for the feed.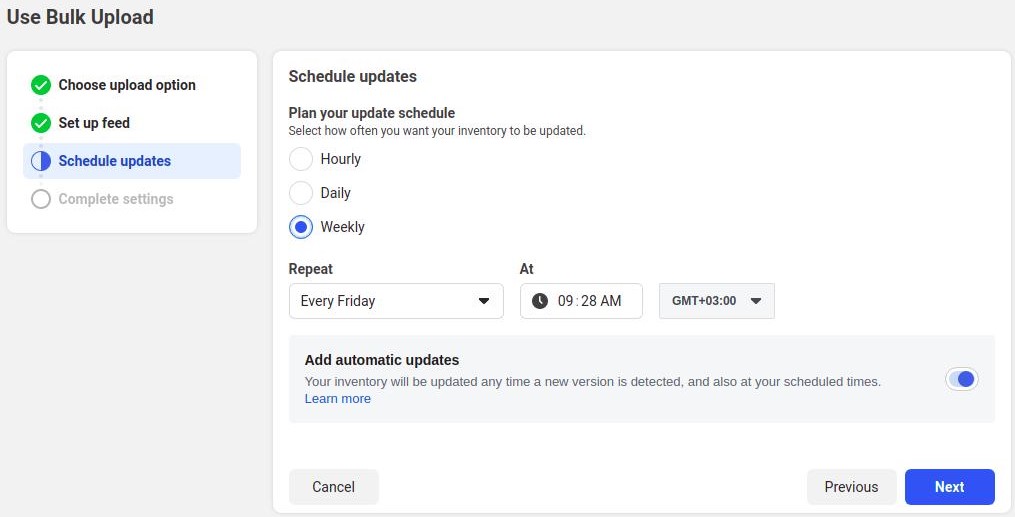 Step 5. Name your feed and click on the
Upload
button.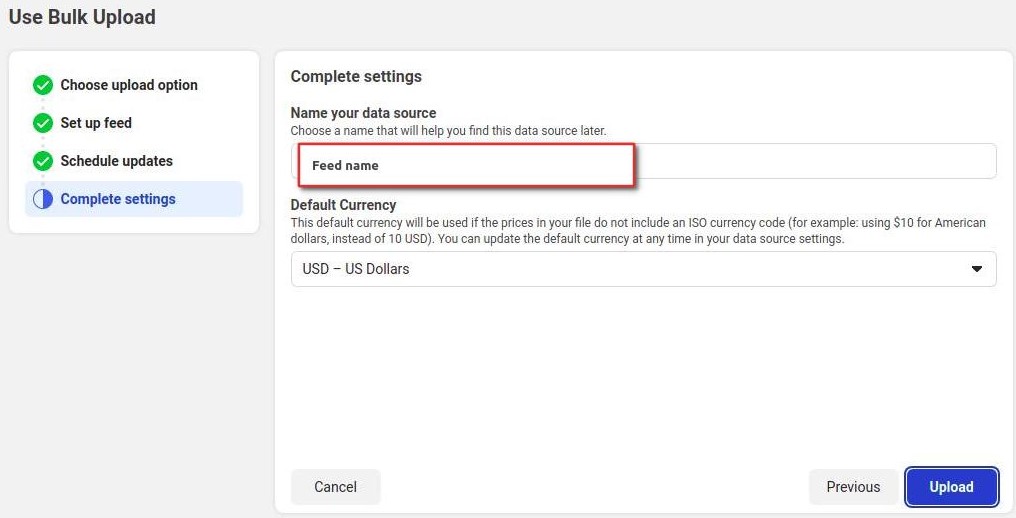 The feed should be uploaded to Facebook and upon its scheduled generation, Facebook catalog items will be updated accordingly.

Related Articles

What is the difference between Facebook Feed, Product feed and Google Shopping Feed?

Facebook Feed, Google Shopping Feed and Product Feed are the three names of the same Amasty extension, they deliver identical functionality. Several product pages have been created to reveal the functionality of the module from different angles.

Does the module work for Facebook shop, Google merchant as well as Instagram shop, Pinterest?

Our Product Feed extension has pre-made templates for Google Merchant and Facebook, Amazon, Bing platforms. All the available templates can be found in Catalog → Feeds → Profiles on the arrow sign click. Templates contain basic settings of a specific ...

How to submit product feed to Google Merchant?

Once the feed is created in the Magento, you can upload it to the Google Merchant, following these simple steps. Step 1. Create a primary feed in your personal Google Merchant account in Products → Feeds. Step 2. Specify the basic information for ...

The second step in the Google Feed Wizard tool doesn't help to exclude categories from the feed. How can I do it?

On the second and third steps in the Google Feed Wizard tool, it's required to create the categories for Google taxonomy. Category names that are selected in the mapping are supposed to be ignored and not included in the feed file. Meaning that their ...

Feed is empty after download - how to fix that?

If the feed was created via the custom feed template in .xml, .txt, or .csv formats, it is required to manually add some product attributes to it because initially, the custom template does not contain any attributes. For that, navigate to the ...