How to upgrade the tariff plan of my extension?
It is possible to upgrade the tariff plan of the purchased module by paying the difference. For that, navigate to the
Products
tab in your account and scroll to the
Composer packages
or
Packages
section. Find the needed extension and click the
Upgrade
button next to its name.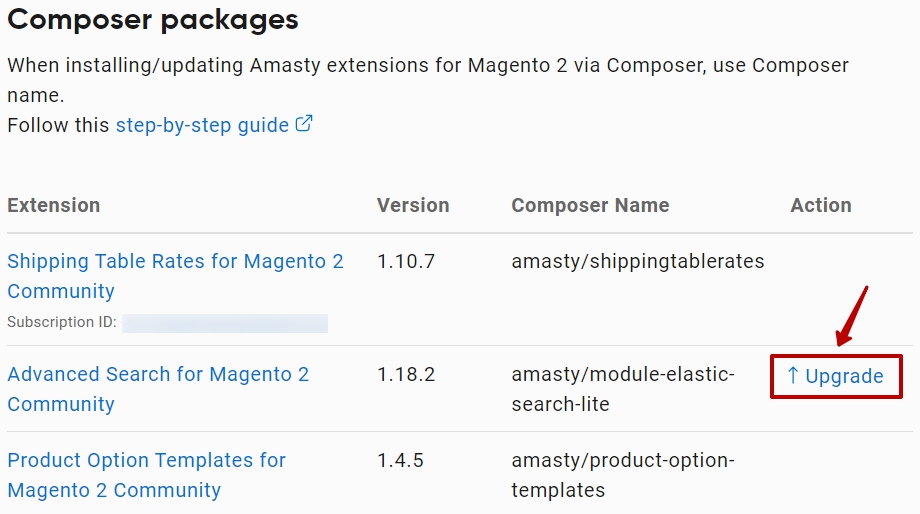 Choose the needed plan and order from the popup and add it to the cart by clicking the
Upgrade & Subscribe
button.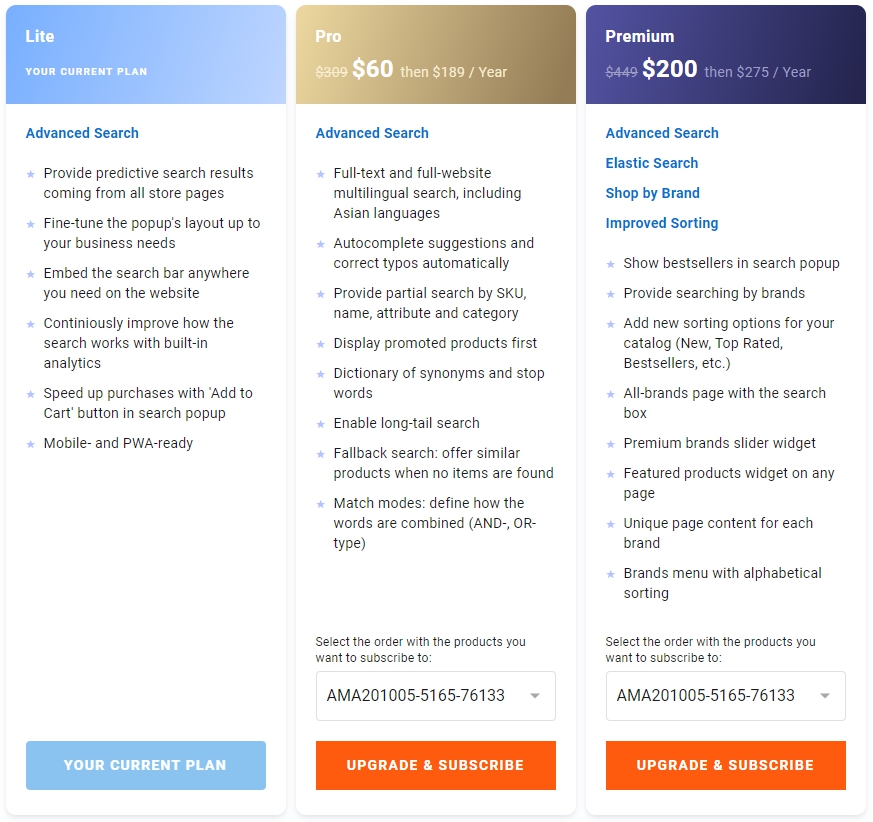 Related Articles

I have the extension for M1 and want to upgrade it to M2. What should I do?

Magento 1 and Magento 2 extensions are completely different solutions, so it will be required to re-purchase them for Magento 2 anew (if the same extensions for Magento 2 exist). Please contact us via a ticket, and we will review your case ...

What should I do if I bought the wrong extension?

Please contact us as soon as possible in order to replace the current extension with the one you need in terms of a 30-day money-back guarantee.

Can I change the EE extension to CE for free?

Community, Enterprise and Magento Cloud packages are different solutions, as each of them is developed according to the peculiarities of the corresponding Magento edition. Please contact our team if you'd like to change the edition of the purchased ...

Do you have the installation service?

Yes, we provide a professional installation service within our Pro, Premium and Amasty One support subscription plans. The installation service within a support subscription is non-expandable and can be used for all your orders at any time while the ...

Where can I find the invoice for the extension purchase?

Please kindly note that invoices for orders completely covered with store credits or placed on the Magento Marketplace are not available in the account on amasty.com. If you have made a purchase through FastSpring with an order starting with #AMA, ...