Can the module keep the set selection of the parts finder (i.e. brand/model/year) when switching a category?
Yes, Product Parts Finder provides the opportunity to apply certain filtering parameters that will not be reset when a customer browses different categories.
To enable this functionality, navigate to Stores > Configuration > Amasty Extensions > Product Parts Finder > General and set the Apply Filter for Current Category Only option to No: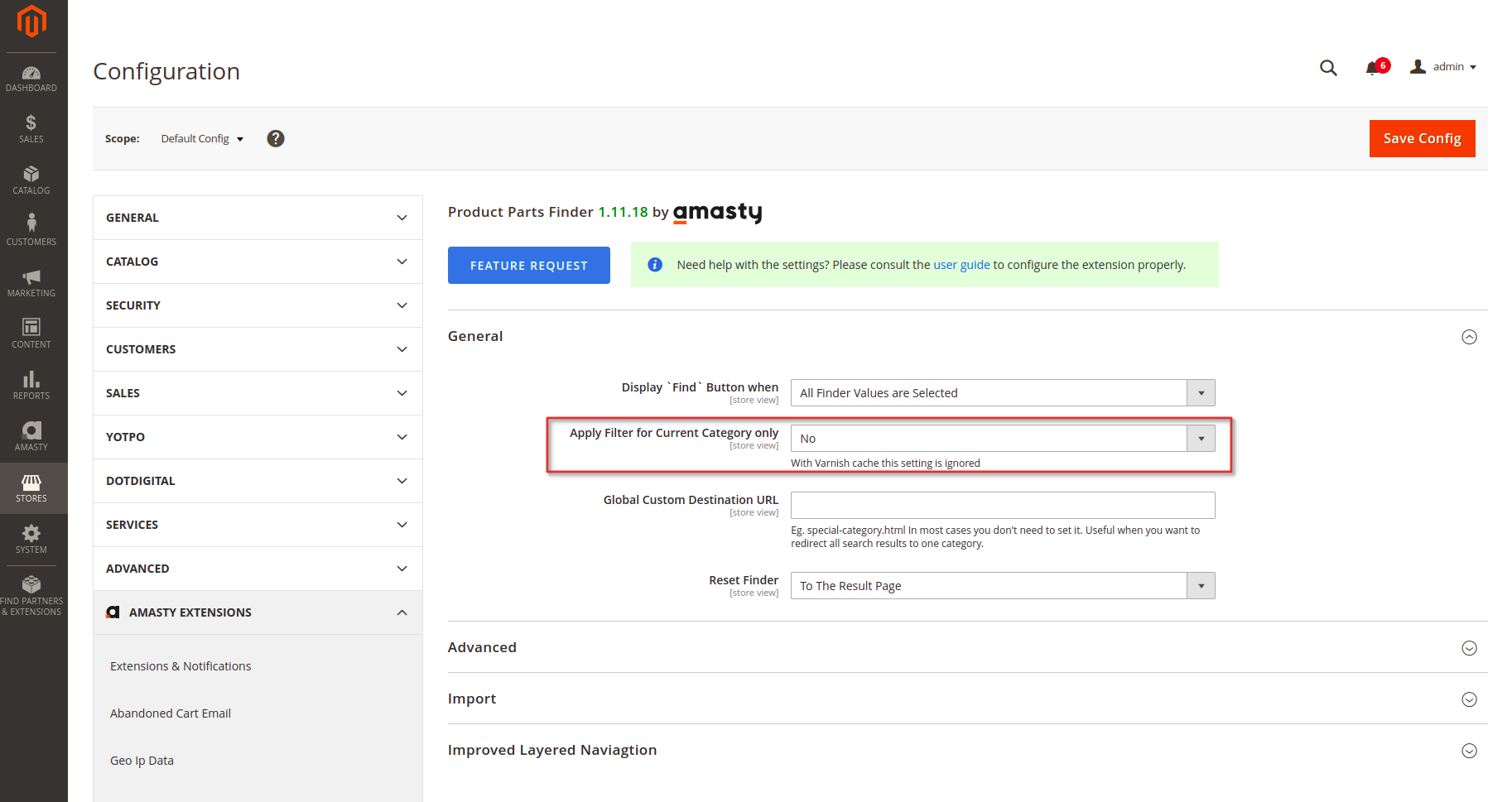 As a result, customers will be able to freely switch categories and keep the parts finder unchanged. To check the behavior on the frontend, s
et the required parts finder options and choose a category in the filters: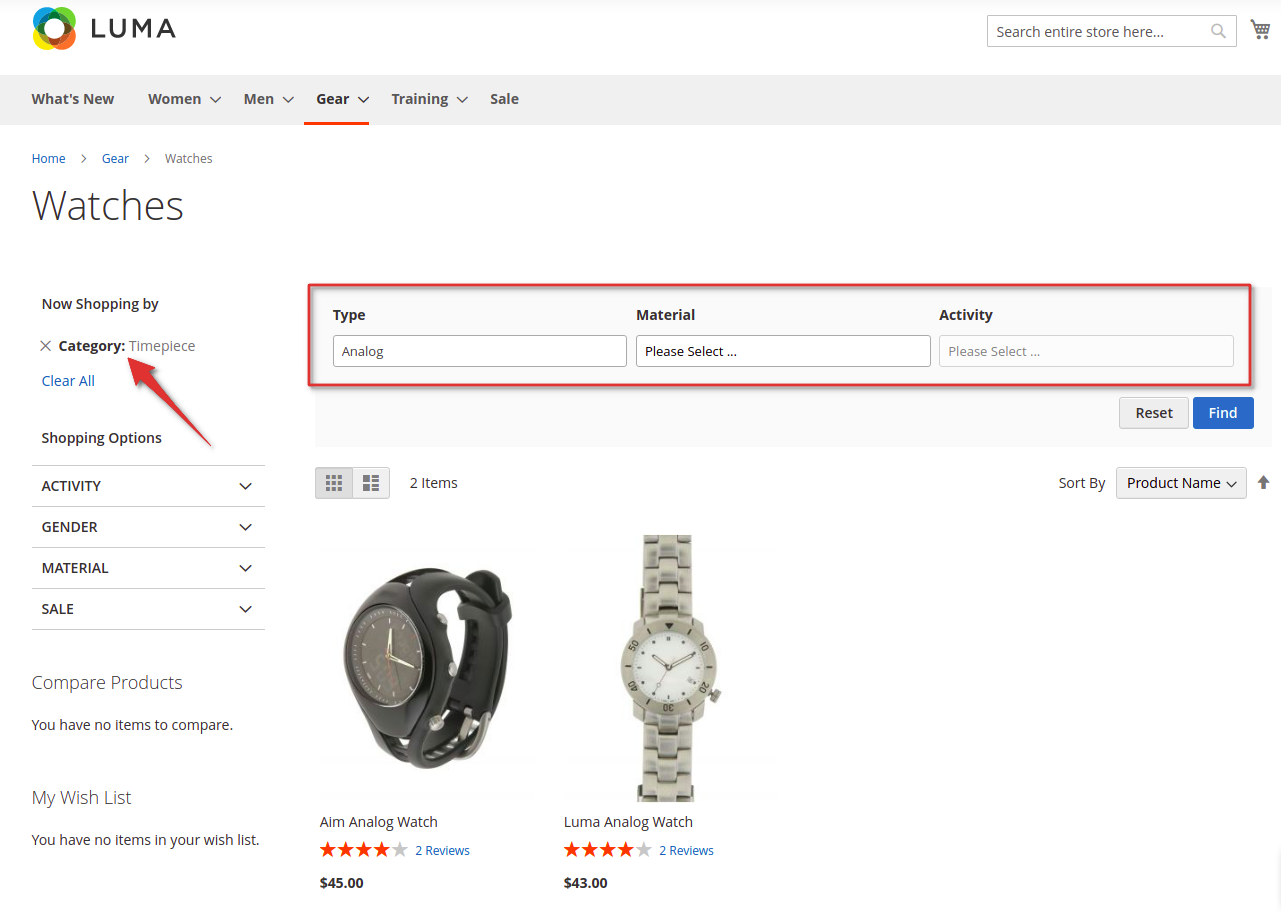 Then switch the category - the parts finder options remain the same: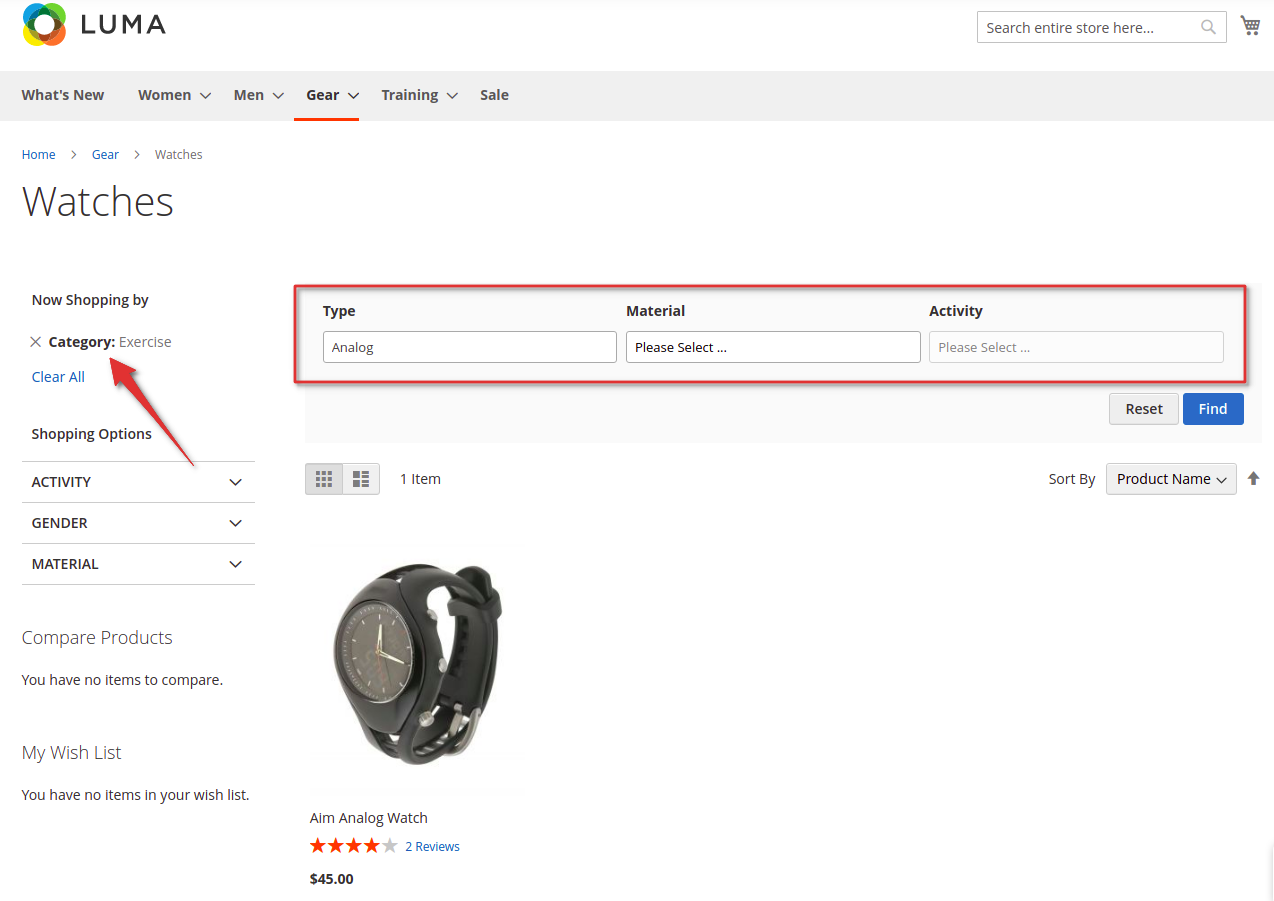 Related Articles

How to disable/delete a brand?

As brands are attribute options, you will need to delete the option from the Brands attribute. For that, please go to Stores → Attributes → Products and select the attribute that is set as brand in the general extension configurations. In the ...

How to add brands to your e-store?

There are 3 crucial steps to be followed for adding the brand to the e-store: A new attribute should be created in . The attribute should be added to the products. It is necessary to set the created attribute as the brand attribute in the ...

How to modify the brand icons size on product listing and product details pages?

In order to change the width and height of the images on the product page and on the product listing, please navigate to Improved Layered Navigation: Brands settings, tabs Product Page Brand Settings: and Product Listing Page Settings for ...

The Product Attachments tab is not visible on the storefront. How to fix this?

First of all, make sure that the extension and specifically the product attachments tab are enabled in the module's configuration. In case you've chosen to include attachments in orders, we would advise to also enable the "Display 'Include In ...

How to disable filter by category?

Unlike the default Magento, the Improved Layered Navigation module allows disabling filtering by category. To do that, navigate to Magento Admin Panel → Stores → Configuration → Amasty Extensions → Improved Layered Navigation → "Category" ...
Announcements

Already done in Q3'22

Extensions updates Advanced Reports now, when a website works with multi currencies while filtering reports by the store views, the data in the report is converted to the site base currency; now, the Product Performance report displays up-to-date customer

What to expect in Q3'22

New features and improvements Improved Layered Navigation integration with Live Search. Elastic Search improved Relevance Rules functionality. Product Feed an option to add configurable options to product URL; possibility to use Quantity attribute as

Already Done in Q2'22

Brand-new extensions Google Page Speed Optimizer Powered by SpeedSize™ is a synergy of Amasty Google Page Speed Optimizer and SpeedSize, which will help you greatly increase the site performance due to code structure compression and neuroscience media

What to expect in Q2'22

Amasty always strives to deliver new functionality in accordance with the most popular customers' requests and e-commerce trends. In this article, we'll share our plans on new extensions, improvements, fixes, and other releases the team intends to be

March'22 results

New Solutions In March, the team presented two new suites that combine features of top Amasty extensions and are attractive price-wise: Must-Haves Suite. Don't know how to grow your business or what to start with? Get our must-have set of features for