How to add x1.5 points for a specific category?
In order to configure the
x1.5
reward points rate for the product from a specific category, two separate rules should be created: the general one, and the rule for the required category.
So if your general rule is "Get 10 Points for each $20 Spent", the amount for the second one should be equal to 10 * 0.5 = 5 points. Please, fill in this value into the Amount field of your additional rule and specify the required category in the Earning Configuration tab: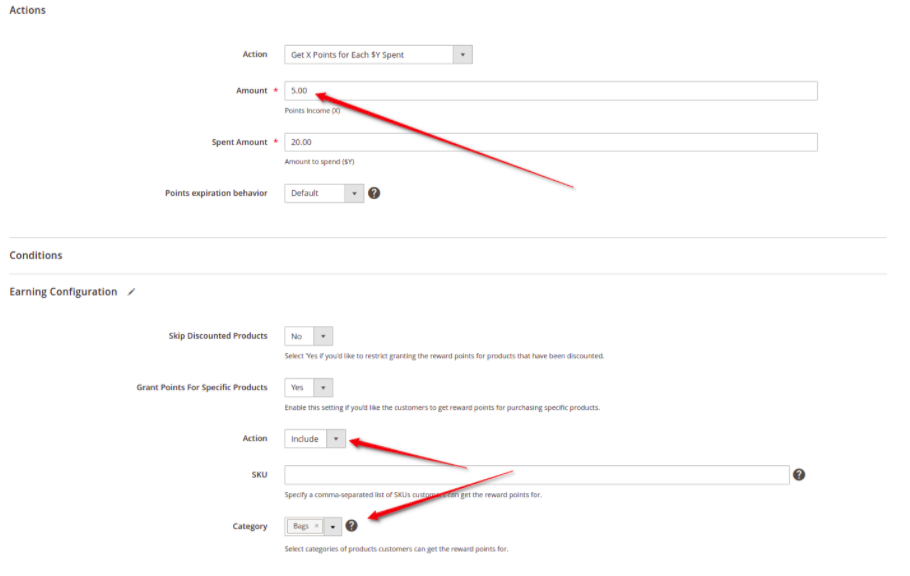 As soon as a product from a specified category is added to the cart, the points are multiplied: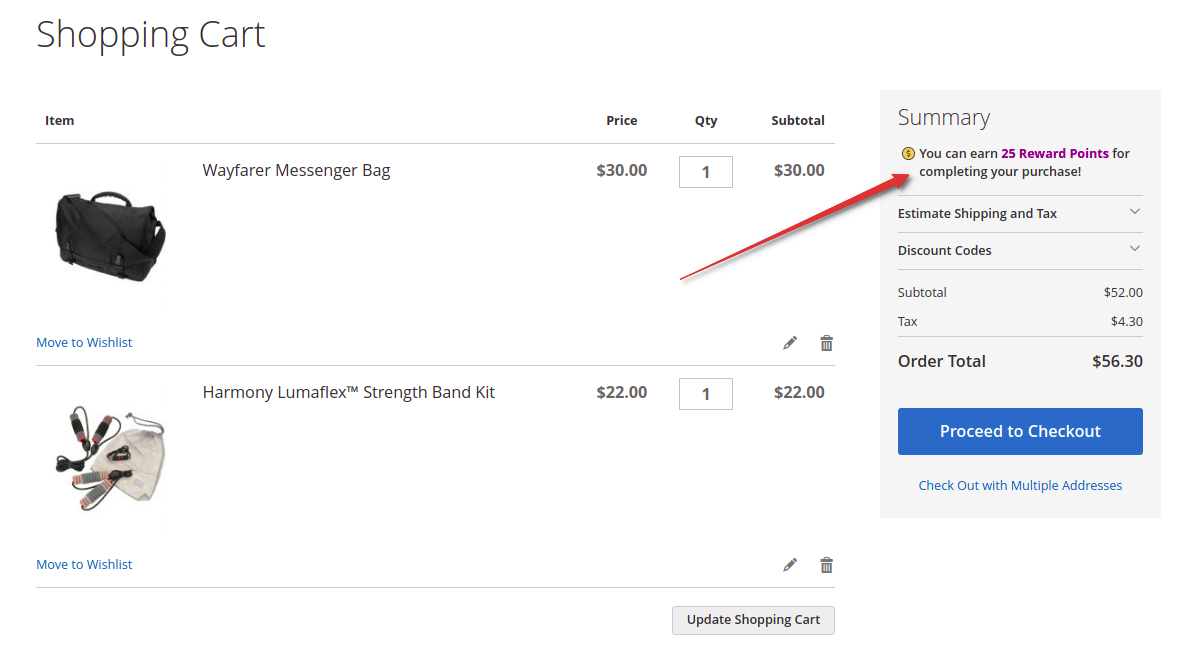 Related Articles

How to exclude specific products from the reward points earning rule?

According to the logic of the Reward Points extension, the feature of excluding products from the rule is available for the "Get X Points for Each $Y Spent" action. To achieve the desired results, please select the mentioned action, and ...

Will I be able to reward end customers with points, or can your Reward Points and Affiliate extensions be combined to achieve this?

Out of the box, the Affiliate extension doesn't have an option to provide customers with points. Reward Points and Affiliate are separate extensions that work individually and are not integrated with each other. As an option, the admin ...

How do I import the reward point data?

Out of the box, importing the information about the reward points is not supported at the moment. Alternatively, you can adjust this information manually in the Customers > All Customers > required customer account > Reward Points tab:

Why does the 'Highlight Promotion' feature fail to work?

The 'Highlight Promotion' feature is useful at stimulating purchases thanks to advertising messages. Customers will see information about the number of reward points they can receive upon making a purchase, registering an account, etc. In ...

Points are not accrued after the order is placed. How do I fix it?

Out of the box, reward points are added to a customer' account as soon as the order obtains the 'Complete' status: If the points are not added after the order is shipped and invoiced, please feel free to contact us.
Announcements

Already done in Q3'22

Extensions updates Advanced Reports now, when a website works with multi currencies while filtering reports by the store views, the data in the report is converted to the site base currency; now, the Product Performance report displays up-to-date customer

What to expect in Q3'22

New features and improvements Improved Layered Navigation integration with Live Search. Elastic Search improved Relevance Rules functionality. Product Feed an option to add configurable options to product URL; possibility to use Quantity attribute as

Already Done in Q2'22

Brand-new extensions Google Page Speed Optimizer Powered by SpeedSize™ is a synergy of Amasty Google Page Speed Optimizer and SpeedSize, which will help you greatly increase the site performance due to code structure compression and neuroscience media

What to expect in Q2'22

Amasty always strives to deliver new functionality in accordance with the most popular customers' requests and e-commerce trends. In this article, we'll share our plans on new extensions, improvements, fixes, and other releases the team intends to be

March'22 results

New Solutions In March, the team presented two new suites that combine features of top Amasty extensions and are attractive price-wise: Must-Haves Suite. Don't know how to grow your business or what to start with? Get our must-have set of features for