How many postcodes can be added to the Shipping Area?
The maximum amount of postcodes within one Shipping Area can be achieved if the textarea input is used to list them rather than the table input: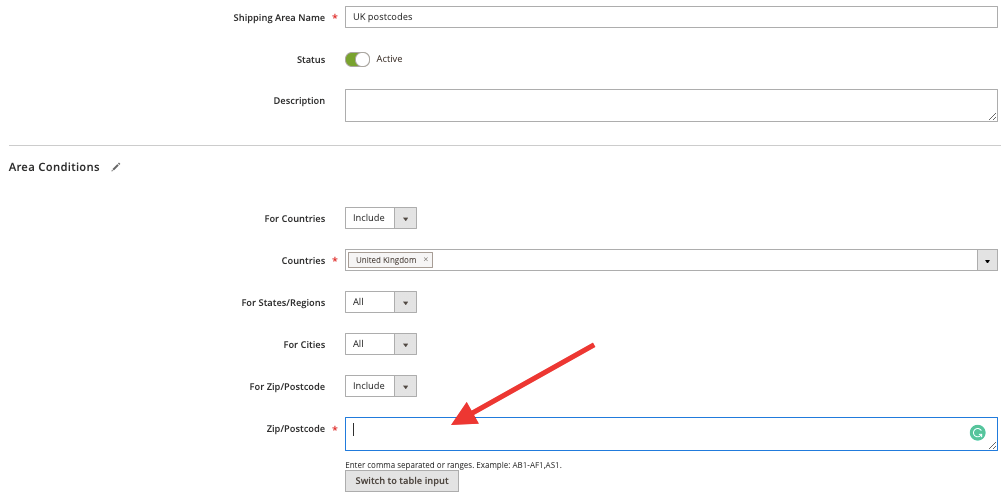 The textarea input field can fit up to 64,000 symbols. With an average postcode length of around 8 symbols, including a comma to separate postcodes from one another, one Shipping Area can contain around 8,000 postcodes.
In addition to that, our dev team will be able to increase the limit for your instance exclusively in case it is required. So please feel free to
contact us
if that's the option you'd like to explore.

Related Articles

How to configure a Shipping Restriction based on postcodes?

There are several ways to configure a Shipping Restriction that will block a certain delivery method based on postcodes. Option #1 If you are using multiple single postcodes or ranges, one of the methods to configure a postcode-based Shipping ...

How do I exclude postcodes while setting up shipping table rates?

Out of the box, the Shipping Table Rates module does not allow excluding postcode ranges. However, this feature is presented in our Shipping Rules and Shipping Restrictions extensions. With the help of the Shipping Areas submodule that comes in a ...

How to make a shipping method available in the Admin Panel only?

If you would like to make a certain shipping method available only for specific orders in the Admin Panel, it is possible using our Shipping Restrictions extension. Step 1. You need to create a restriction rule in Sales → Shipping Restrictions → Add ...

How does the Admin Area setting work?

The mentioned setting allows stating whether a Shipping Rule will be triggered in the backend the same way as on the frontend. If the Admin Area setting in Stores & Customer Groups tab is enabled, the rule will be applied while creating an order in ...

How to configure a Shipping Restriction that will be triggered on a specific day of the week?

To create a Shipping Restriction rule that will be applied only on a specific day of the week, navigate to Magento Admin Panel → Sales → Shipping Restrictions and click on Add Rule. Fill in all of the required fields, as well as the conditions of the ...