How do I restore anonymized data to process the incoming orders?
Once the customer submits the anonymization request from their account settings, it is approved automatically without any option to restore the anonymized data. The extension settings allow preventing data anonymization for the specific order statuses to avoid issues with order processing. To specify such statuses, proceed to Magento
Admin Panel > Stores > Configuration > Amasty extensions > Personal Data protection > Personal Data Deletion and Anonymization
: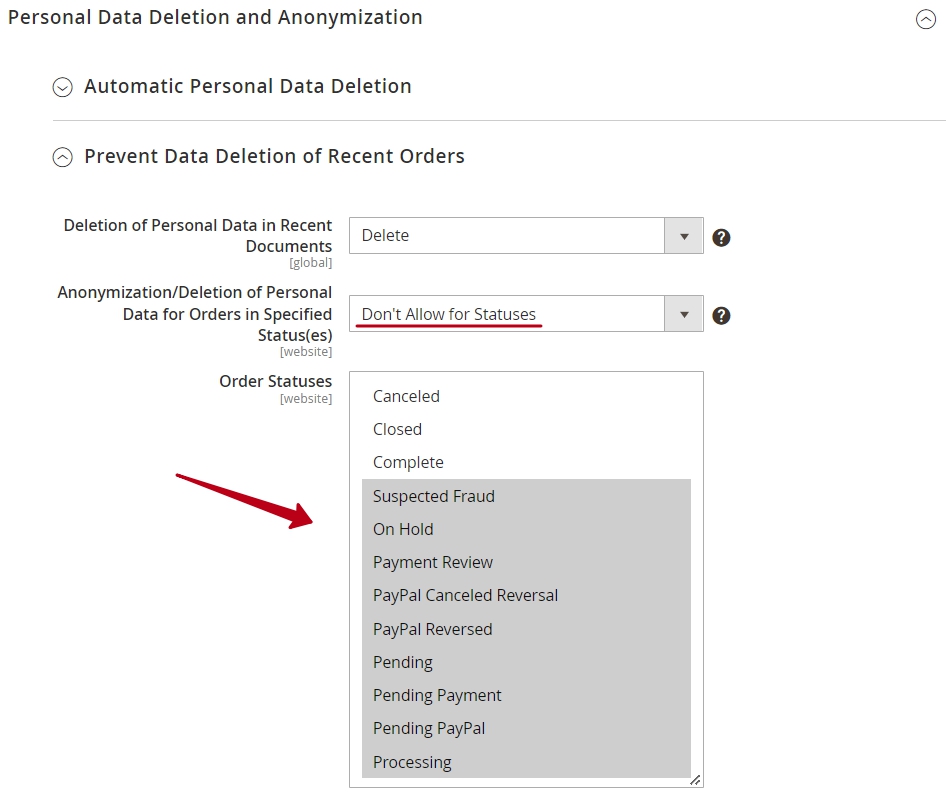 Related Articles

What is the difference between CCPA and GDPR?

The CCPA and GDPR modules look similar, however, there are certain nuances to both of them due to them being tailored for two different laws. While both of them allow you to create multiple checkboxes, and your customers — to download ...

Does the Export Orders extension include fields from other Amasty modules I use?

Yes, the extension is integrated with some other Amasty modules such as One Step Checkout, Order Attributes, RMA, Gift Card. If these extensions are installed, the additional corresponding tabs appear in the Fields Configuration section on the ...

Can I have the Luma Sample Data on some pages of my website and the Jet Theme Sample Data on other pages?

Different types of Sample Data can only exist on different store views. It's not possible to have Luma Sample Data & Jet Theme Sample Data on different pages within ONE store view of a website at the same time. A workaround for such a ...

How to export orders placed within a specific date range?

The extension provides the functionality to set various filters on orders that are to be exported. To add filters, navigate to the Export Filters tab on the profile configuration page (System > Export Orders > Profiles), click the Add Filter ...

Is it possible to include the data from 3rd party extensions into the export profile?

Yes, the Export Orders extension provides the functionality to set connections with third-party extensions. To create such connection, navigate to System > Export Orders > 3rd Party Connections > Add New Connection and fill in the fields ...
Announcements

Already Done in Q2'22

Brand-new extensions Google Page Speed Optimizer Powered by SpeedSize™ is a synergy of Amasty Google Page Speed Optimizer and SpeedSize, which will help you greatly increase the site performance due to code structure compression and neuroscience media

What to expect in Q2'22

Amasty always strives to deliver new functionality in accordance with the most popular customers' requests and e-commerce trends. In this article, we'll share our plans on new extensions, improvements, fixes, and other releases the team intends to be

March'22 results

New Solutions In March, the team presented two new suites that combine features of top Amasty extensions and are attractive price-wise: Must-Haves Suite. Don't know how to grow your business or what to start with? Get our must-have set of features for

February'22 results

Time to check the results of February! It's been a tough end to the month, but let's digress a bit and check out what the team has done. Extensions updates. Besides technical fixes, February was rich in new features and improvements: Jet

January'22 results

Can't help but start with the biggest news of the past month: Amasty switched to Product Subscriptions. It means that all extensions can now be acquired by subscription only. The initially purchased code of the module is still available in the customer