How can the size of images for the blog be adjusted?
The images' width and height can be adjusted in the Blog Configuration Settings. To do so, please head to
Amasty > Blog Pro > Configuration > Post
and specify the image width and height: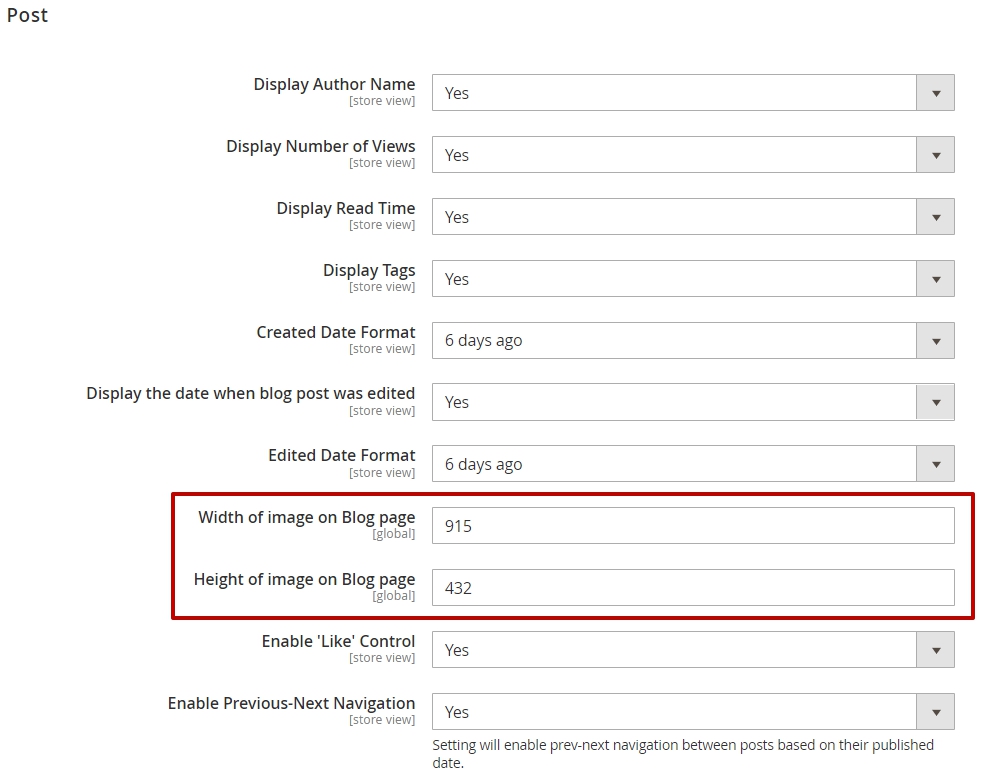 The image in the Blog post will be resized to the respective size from the Blog configuration settings outlined above.

Related Articles

Does the Blog Pro module support the Page Builder functionality?

The Blog Pro module does not provide the Page Builder functionality out-of-the-box. However, there is a special submodule included in the Blog Pro package that makes the extension compatible with the Page Builder functionality and lets you use ...

How does the extension work with the built-in Magento search for finding blog content?

While the Blog content does not show up in search results by default, we do have an extension that makes finding blog posts with search possible, in addition to a number of other features. The extension is Advanced Search, which is also ...

Are the primary keys required for all the Blog Pro database tables?

The Blog Pro module structure includes the amasty_blog_posts and amasty_blog_categories tables that contain the primary keys. And since we use indexers for specific keys, several module tables are not required to have primary ones according to ...

Is it possible to include Blog posts in Google XML sitemap?

Due to the limited functionality of the default Magento XML Sitemap generator, it's impossible to include pages of our Blog Pro in it. If you'd like to add Blog items to the XML sitemap, please consider our XML Google® Sitemap extension. When ...

How to add a YouTube video to a blog post?

With the Blog Pro extension, it is possible to add and play YouTube videos right in blog posts. To add a video to a post page, follow the steps below. 1. Open the required YouTube video, right-click on it, and select Copy Embed Code: ...
Announcements

Already Done in Q2'22

Brand-new extensions Google Page Speed Optimizer Powered by SpeedSize™ is a synergy of Amasty Google Page Speed Optimizer and SpeedSize, which will help you greatly increase the site performance due to code structure compression and neuroscience media

What to expect in Q2'22

Amasty always strives to deliver new functionality in accordance with the most popular customers' requests and e-commerce trends. In this article, we'll share our plans on new extensions, improvements, fixes, and other releases the team intends to be

March'22 results

New Solutions In March, the team presented two new suites that combine features of top Amasty extensions and are attractive price-wise: Must-Haves Suite. Don't know how to grow your business or what to start with? Get our must-have set of features for

February'22 results

Time to check the results of February! It's been a tough end to the month, but let's digress a bit and check out what the team has done. Extensions updates. Besides technical fixes, February was rich in new features and improvements: Jet

January'22 results

Can't help but start with the biggest news of the past month: Amasty switched to Product Subscriptions. It means that all extensions can now be acquired by subscription only. The initially purchased code of the module is still available in the customer