Configured expand logic doesn't work on the frontend. How to fix?
Improved Layered Navigation provides the flexibility to set the filters to either be expanded or collapsed when the page is loaded, and this option can be set independently for different devices. There are three available options:

Auto

— usually, this is a collapsed state for the filter. With this option applied, expand behavior depends on the theme settings;




Expand for desktop and mobile

— on page loading, the filter will be expanded on desktop and mobile devices;




Expand for desktop only

— the filter will keep the collapsed state on mobile devices, while loading expanded on desktops.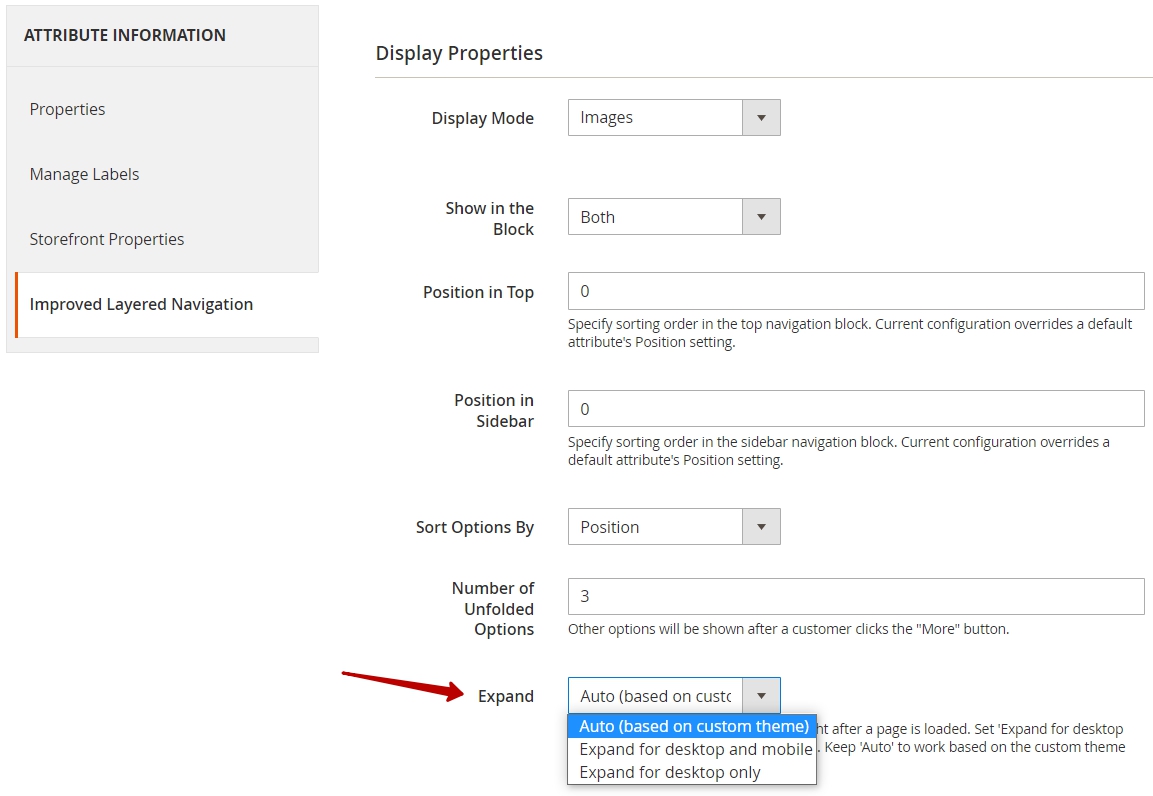 Although the theme should only affect the Auto behavior of Improved Layered Navigation, it is possible that it may interfere with other options or cause all filters to be expanded. If you've faced such an issue, try disabling the theme to check if it affects the display of the filters on the frontend. To get assistance with adjusting the theme, please contact our
support team
.

Related Articles

How to fix the Magento 2.4.5 Layered Navigation showing incorrect results issue?

After upgrading Magento to version 2.4.5 you can see the error: TypeError: Magento\Elasticsearch\Model\ResourceModel\Fulltext\Collection\SearchResultApplier::categoryProductByCustomSortOrder(): Argument #1 ($categoryId) must be of type int, array ...

How to disable Improved Layered Navigation on a specific store?

For multistore installations, this option is not covered. Although the settings for the Improved Layered Navigation module can be configured individually for each store view, the module cannot be disabled on a store view basis.

Meta data for filters is not applied, is there a fix for it?

The extension allows changing some page properties like title, description, images, and CMS blocks, including some Meta data, when applying a filter. The feature requires configuration described below. Step 1. In the general extension settings ...

Is there a possibility to change the position of the filter on the frontend?

There are several options for filter positioning: top position; sidebar; both (top and sidebar). The positioning can be configured differently for each attribute in the Improved Layered Navigation section on the attribute configuration page: If you ...

How does the multi-select feature works for the category filter?

With the Amasty Improved Layered Navigation extension, it is possible to enable multi-select for the category filter. Enabling this feature changes the mechanics of the category filter. A category filter without multi-select works as a redirect to ...