Can reCaptcha prevent from carding attacks?
Kindly keep in mind that Google reCaptcha is a bot protection. At the same time, carding can be both from bots and from humans. When it comes to protection against bots, the captcha initializes protection when a customer clicks the default Place Order button, and if it recognizes the customer as a bot, it does not allow proceeding with the payment.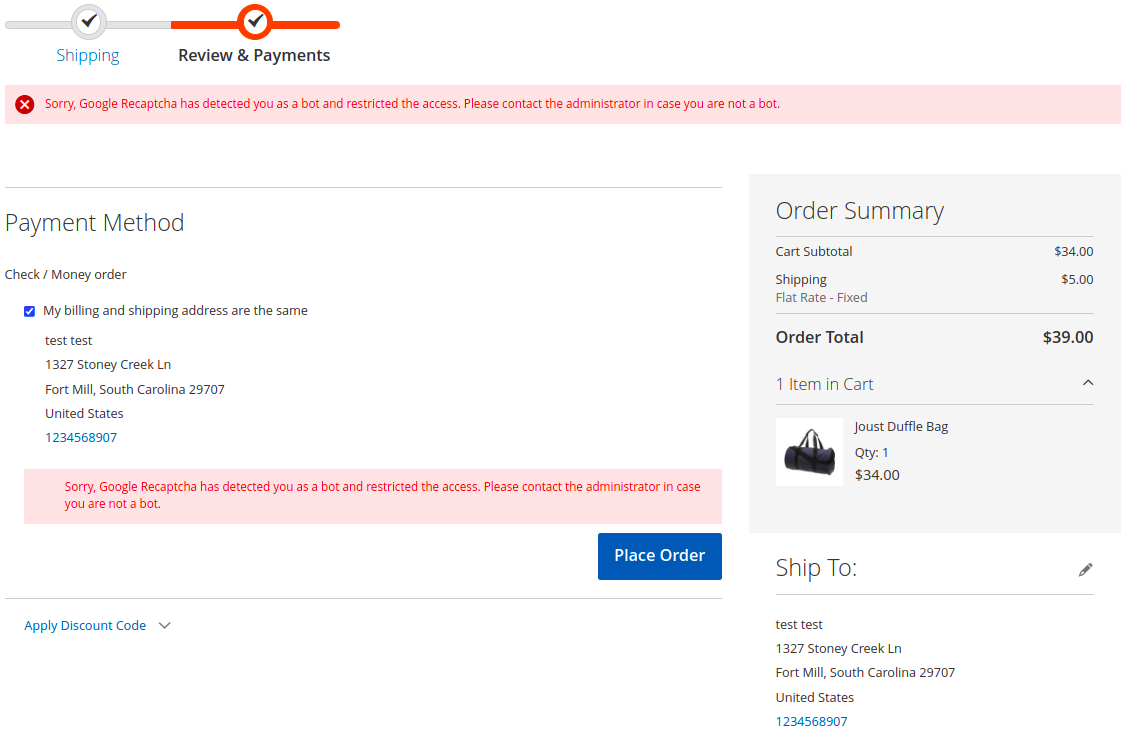 However, please note that
captcha generally does not prevent human carding attacks.
The initial check happens before the customer enters the card details. And on this step - entering details - it's the specific payment method security that should deal with it (for example, 3D Secure).

Related Articles

Can I add reCaptcha on the checkout forms?

Since version 2.4.0, it's possible to add reCaptcha to the checkout page forms. To do so, navigate to Stores → Configuration → Amasty Extensions → Google Invisible reCaptcha → Forms to be Protected by Captcha and choose the needed form: This feature ...

How to prevent customers from buying a product that should only be available as a Free Gift?

The Free Gift extension allows adding promo items that are not visible in catalog. If you don't want your customers to purchase the items meant to be Free Gifts only, please set the Not Visible Individually option on the configuration page of your ...

What features are included in each tariff plan of One Step Checkout?

LITE One Step Checkout extension - all checkout sections on one page; - customizable design (layout, color scheme, address formatting, default values); - delivery options: delivery date calendar, delivery time interval, delivery comment; - Google ...

How do I restore anonymized data to process the incoming orders?

Once the customer submits the anonymization request from their account settings, it is approved automatically without any option to restore the anonymized data. The extension settings allow preventing data anonymization for the specific order ...

Email field does not detect the existing account by entered email address. What's causing the issue?

If you're running on Magento Commerce 2.4.6-p1 or higher, please make sure that the Guest Checkout is enabled in the default Magento settings, as it may prevent guest customers from logging in to their existing accounts on the checkout page. To ...