Can I use increment ID as shipment ID to import tracking numbers using the Mass Order Actions extension?
Currently, the extension relies on the entity_id field from the database. To make sure the import is successful, use the shipment primary key in the shipment_id column. You may find this value in the URL of the shipment view page: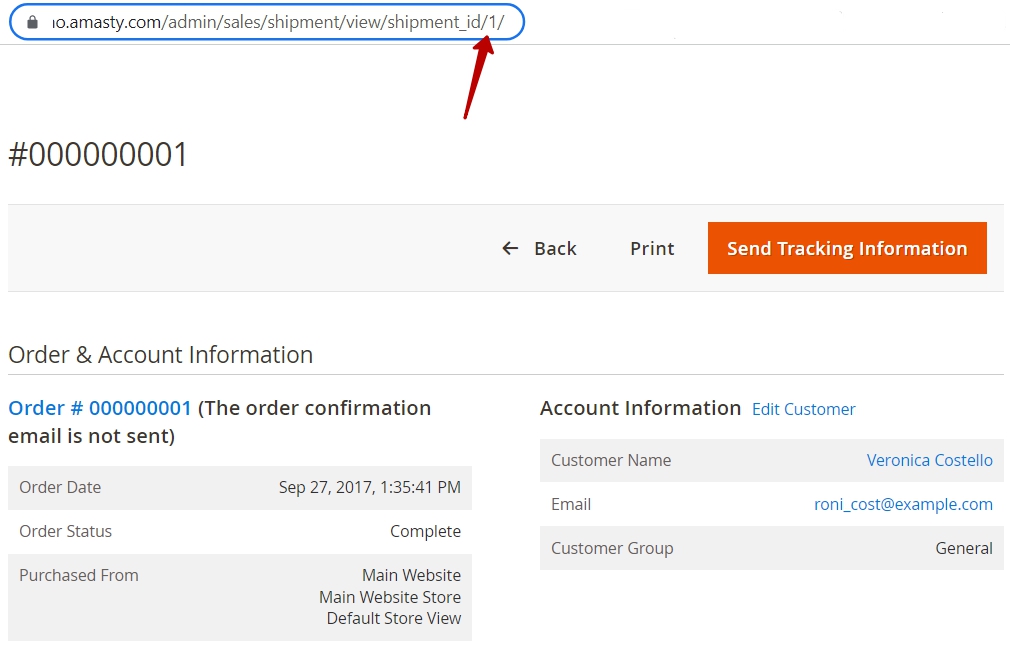 Related Articles

Will the customers be notified if I change the order status using Mass Order Actions extension?

Starting from Mass Order Actions v.1.6.0, the order status can be changed using two mass actions: Change Status and Change Status and Notify. Change Status means the status will be changed, but the customers will not receive any email ...

Can I print packing slips before a shipment is created?

Yes, it's possible to print packing slips before a shipment is created using the Mass Order Actions extension. To do this, make sure the extension is updated to v.1.6.1 or higher. After that, open the order grid, select the necessary orders, ...

How can I apply mass actions to a specific store view?

In order to apply a mass action (for example, Replace text) to a specific store view only, you may set a filter by store view on the product grid: As a result, all mass actions will only be applied to the selected store view. Please, note ...

What is the required minimum of fields to import orders/products/customers?

There is an option to automatically fill the import profile with fields for typical cases for all import modules. This option is available on creating a new import profile in the Import Settings tab: If enabled, Fields Configuration will ...

I'm unable to update attributes on multiple products, what can I do?

Please, keep in mind that Update Attribute is a default Magento mass action that is not affected by the Mass Product Actions extension. If you try to update attributes via mass actions, but the attempt fails, then one of the reasons may be that ...
Announcements

Already Done in Q1'23

Brand new extensions We launched a coming soon page for the new Back Forward Cache extension. It restores the recently visited page when the customer clicks 'Back' or 'Forward' browser options, thus ensuring faster page load speed. Subscribe to the release

Roadmap | What to expect in Q1'23

New features and improvements Improved Layered Navigation generate SEO-friendly URLs for multi-select Category filter; better speed performance of the Apply filters button; improve Category list load time. Special Promotions Pro optimize data types in

Already Done in Q4'22

New Amasty services Make sure your site is well-performing with our E-commerce QA testing service. Let our specialists check various elements of your website and get the issues fixed. The service is available for any e-commerce platform (Magento, Shopify,

Roadmap | What to expect in Q4'22

New features and improvements Elastic Search better performance of synonyms; REST API support. Product Labels enhanced extension performance with a lot of products on the page. Blog Pro posts migration from one Magento instance to another; email notifications

Already done in Q3'22

New solutions Our new SaaS tool - Website SEO Health Check. Discover the most severe SEO mistakes which can damage your website. Available as part of Pro and Premium SEO Toolkit. New features and improvements Import and Export NEW we added the possibility