Can I add reCaptcha on the checkout forms?
Since ver. 2.4.0, it's possible to add reCaptcha to the checkout page forms. To do so, navigate to Stores > Configuration > Amasty Extensions > Google Invisible reCaptcha > Forms to be Protected by Captcha and choose the needed form: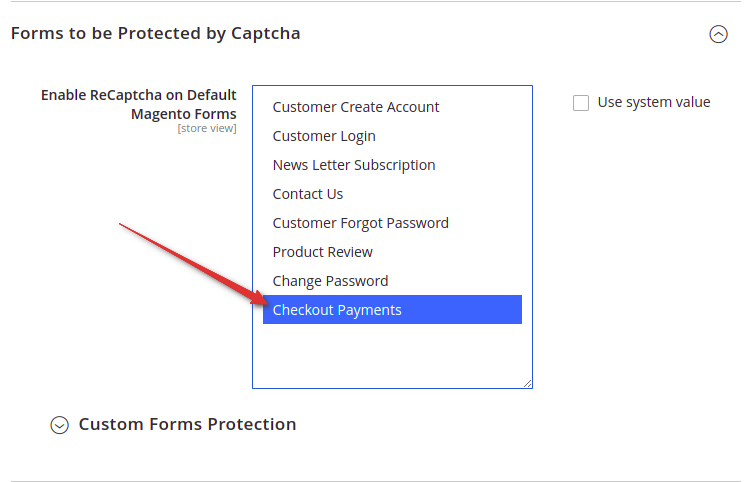 This feature will also work with One Step Checkout by Amasty. The captcha is triggered on the Place Order button click and ignores the field-filling process itself.

Related Articles

What features are included in each tariff plan of One Step Checkout?

LITE One Step Checkout extension - all checkout sections on one page; - customizable design (layout, color scheme, address formatting, default values); - delivery options: delivery date calendar, delivery time interval, delivery comment; - Google ...

How to add shipping attributes to the Google Merchant feed?

The module itself does not calculate any shipping values - weight, prices, etc. as those are calculated on the checkout. Shipping costs for the products in the feed should be specified in the marketplaces where this feed will be uploaded. ...

Do I need to pay for the Google Autosuggest option?

The One Step Checkout for Magento 2 provides you with the Google Address Autocomplete functionality out of the box. It comes as a separate submodule, so the settings can be found in Stores > Configuration > Amasty extensions > Google Address ...

Can I add Google Analytics cookies to the essential group?

Essential cookies are a site's basic form of memory, used to store the settings selected by a user on a given site. As the name implies, they are essential to a website's functionality and cannot be disabled by users: On that note, ...

How to allow customers to log in via social media accounts (Google, Facebook, Twitter etc.) on the checkout?

The One Step Checkout Lite and Pro packages do not provide the option to allow customers to log in to their accounts using social media. However, this feature is incorporated in the Premium package via the Social Login for Magento 2 extension. ...
Announcements

Already done in Q3'22

Extensions updates Product Feed we added the 'With predefined product options' modifier, so you can add the child products URLs with preselected options to the feed; we added the ability to set the conditions for products unloading to the feed by the

What to expect in Q3'22

New features and improvements Improved Layered Navigation integration with Live Search. Elastic Search improved Relevance Rules functionality. Product Feed an option to add configurable options to product URL; possibility to use Quantity attribute as

Already Done in Q2'22

Brand-new extensions Google Page Speed Optimizer Powered by SpeedSize™ is a synergy of Amasty Google Page Speed Optimizer and SpeedSize, which will help you greatly increase the site performance due to code structure compression and neuroscience media

What to expect in Q2'22

Amasty always strives to deliver new functionality in accordance with the most popular customers' requests and e-commerce trends. In this article, we'll share our plans on new extensions, improvements, fixes, and other releases the team intends to be

March'22 results

New Solutions In March, the team presented two new suites that combine features of top Amasty extensions and are attractive price-wise: Must-Haves Suite. Don't know how to grow your business or what to start with? Get our must-have set of features for